Dedicated to Destiny by Angel Carlton
Author:Angel Carlton [Carlton, Angel] , Date: April 14, 2020 ,Views: 277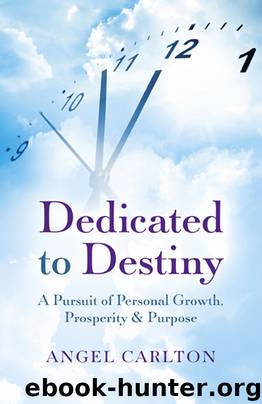 Author:Angel Carlton [Carlton, Angel]
Language: eng
Format: epub
ISBN: 978-1-78535-238-6
Publisher: John Hunt Publishing
Published: 2019-04-25T16:00:00+00:00



Self-Discovery:
• What secrets do you have that have prevented you from living out your dream?
• What did it feel like when you had this experience? (Guilt, shame, self-satisfaction, regret, etc.)
• In a private setting, make a list of all your dirty little secrets—the big ones and tiny ones.
• Begin to take ownership of each one by reading them all aloud in first person ("I lied to my parents, boss, friend, etc.," "I was unfaithful to my spouse," "I cheated on a test in school," "I caused damage to my body by doing drugs," etc.)
• Then authentically apologize to yourself. You are really saying sorry to your spirit. Your spirit is who you truly are whereas your mind (the decision-maker) simply made some poor choices for whatever reason felt good at the time. So it's time for your mind to admit its wrongdoings, own them, and release them.
• What was your mind rationalizing to make it "okay" to do these things?
• Then say aloud, "I forgive myself for cheating on that test in school," etc. Repeat until it's felt deep within your soul. You'll know it is released when you begin to cry. Crying is the body's way of releasing emotional energy. If you can't cry, you're probably not yet willing to face it and let it go. This can take time to accomplish, so perhaps revisit the exercise every day. After all, this energy has been a part of your story for many years. It takes tremendous courage to face these little demons that have held you back from your glory.
• What does it feel like to let this secret go once and for all?
• Once you have come to peace with yourself, say a prayer of gratitude, meditate, or just sit in silence to honor this moment of transformation. Be pleased with yourself.
• Exercise: Write your secrets on a piece of paper, put them in a box or bag, choose one at a time, read it aloud, proclaim self-forgiveness, then tear it up and destroy it, turn it into confetti, toss it in the air, and celebrate releasing this former behavior.
Download


Copyright Disclaimer:
This site does not store any files on its server. We only index and link to content provided by other sites. Please contact the content providers to delete copyright contents if any and email us, we'll remove relevant links or contents immediately.