Bloom by Grey Marilyn
Author:Grey, Marilyn [Grey, Marilyn] , Date: October 16, 2014 ,Views: 503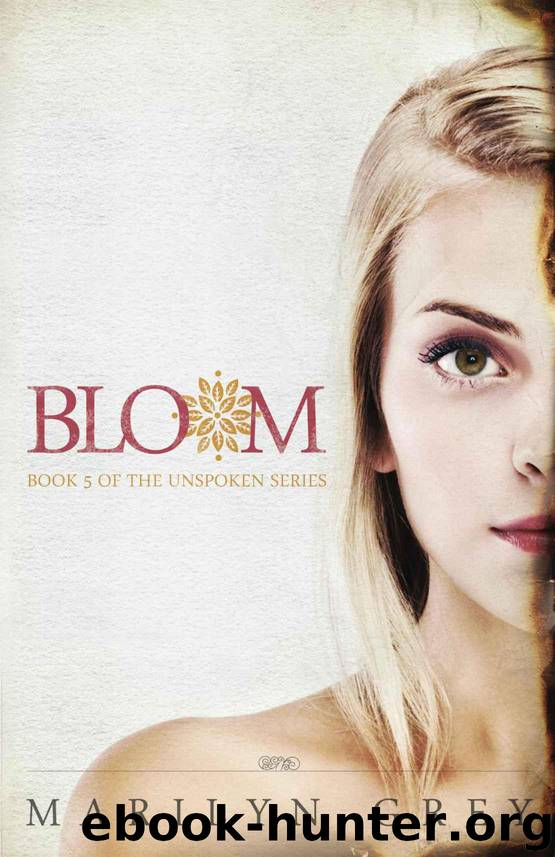 Author:Grey, Marilyn [Grey, Marilyn]
Language: eng
Format: epub
Tags: dpgroup.org, Fluffer Nutter
Amazon: B00JV4ZC68
Publisher: Winslet Press
Published: 2014-06-12T04:00:00+00:00



Vasili insisted on driving me home, but I insisted I was okay. He won the argument and took me back to Ella's. When we parked I didn't see their cars, but I saw James standing on the porch with his hands in his pockets. Of all days.
"Want me to stay until he leaves?" Vasili said. "He looks drunk."
"'l'll be okay."
He nodded with apprehension as I opened the car door. James whistled and waved as I walked up to him. I turned back and urged Vasili to go, but he stayed there.
"Who's that?" James touched the hem of my coat.
"You're drunk. What are you doing here?"
"It's Christmas. All I want for Christmas is you."
I unlocked the door. "Come inside."
He swung his legs as though it took great effort, then fell into the couch.
I stood at the bottom of the steps. "I need to change and do my burn routine."
"Why? Where've you been?"
"Anastasia died. I was with her family."
"Who's Anas ... Anastia?"
"Wait here."
I sat on my bed and looked around, imagining Sophia probably in her daughters bed. The funeral director said they could come to the church the night before the funeral and hold Anastasia until morning. I couldn't imagine.
I pulled my shirt up and over my head, then began taking my compression garments off. A few minutes later I stood in front of the mirror.
I ran my fingers across the scars. I no longer had any resemblance of being a woman, or even a man, while looking at my chest. Scars upon scars. My doctors kept telling me to see a plastic surgeon when my skin could handle it, but I didn't see the point of adding two fake boobs to a chest full of scars purely for aesthetics. I just wasn't sure if I'd ever be able to love my new body. Fake boobs or not. Vasili didn't understand. I could never make love to a man like this. Not even with the lights off.
James appeared in the doorway, smirking. "Look at you."
I held my shirt against my chest. "I'm not finished."
He raised his eyebrows. "All I want for Christmas is you."
"You're not having me. Not now. Not ever." I stepped back as he came toward me. "You're drunk. Leave now or I'm calling the cops." He stepped again. "I'm serious."
He grabbed my arm and shoved me into the wall.
"Stop." I jerked away, but he forced me against the wall again. "James. Stop."
"I'm going to show you that I still think you're beautiful."
He squeezed my arms so hard I felt like my skin would rip apart. I kicked my feet, but he forced me over his shoulder and dropped me on the bed.
"Smile for the camera." He pointed his phone at me. "So sexy now. Come on, you can do better than that."
I wanted to scream and punch him in the face. Or give him a list of reasons why he was unattractive too. Instead, I pressed my face into the bed and mentally traced the lines on my quilt as I did when my sister and her boyfriends made fun of me years ago.
Download


Copyright Disclaimer:
This site does not store any files on its server. We only index and link to content provided by other sites. Please contact the content providers to delete copyright contents if any and email us, we'll remove relevant links or contents immediately.