Tolkien, J. R. R. - The Fellowship of the Ring by Tolkien J. R. R
Author:Tolkien, J. R. R. [Tolkien, J. R. R.] , Date: November 15, 2017 ,Views: 968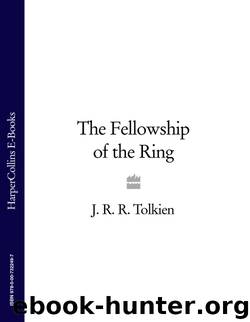 Author:Tolkien, J. R. R. [Tolkien, J. R. R.]
Language: eng
Format: epub
ISBN: 9780007322497
Publisher: HarperCollins
Published: 0101-01-01T00:00:00+00:00



Frodo dozed, though the pain of his wound was slowly growing, and a deadly chill was spreading from his shoulder to his arm and side. His friends watched over him, warming him, and bathing his wound. The night passed slowly and wearily. Dawn was growing in the sky, and the dell was filling with grey light, when Strider at last returned.
'Look!' he cried; and stooping he lifted from the ground a black cloak that had lain there hidden by the darkness. A foot above the lower hem there was a slash. 'This was the stroke of Frodo's sword,' he said. 'The only hurt that it did to his enemy, I fear; for it is unharmed, but all blades perish that pierce that dreadful King. More deadly to him was the name of Elbereth.'
'And more deadly to Frodo was this!' He stooped again and lifted up a long thin knife. There was a cold gleam in it. As Strider raised it they saw that near the end its edge was notched and the point was broken off. But even as he held it up in the growing light, they gazed in astonishment, for the blade seemed to melt, and vanished like a smoke in the air, leaving only the hilt in Strider's hand. 'Alas!' he cried. 'It was this accursed knife that gave the wound. Few now have the skill in healing to match such evil weapons. But I will do what I can.'
He sat down on the ground, and taking the dagger-hilt laid it on his knees, and he sang over it a slow song in a strange tongue. Then setting it aside, he turned to Frodo and in a soft tone spoke words the others could not catch. From the pouch at his belt he drew out the long leaves of a plant.
'These leaves,' he said, 'I have walked far to find; for this plant does not grow in the bare hills; but in the thickets away south of the Road I found it in the dark by the scent of its leaves.' He crushed a leaf in his fingers, and it gave out a sweet and pungent fragrance. 'It is fortunate that I could find it, for it is a healing plant that the Men of the West brought to Middle-earth. Athelas they named it, and it grows now sparsely and only near places where they dwelt or camped of old; and it is not known in the North, except to some of those who wander in the Wild. It has great virtues, but over such a wound as this its healing powers may be small.'
He threw the leaves into boiling water and bathed Frodo's shoulder. The fragrance of the steam was refreshing, and those that were unhurt felt their minds calmed and cleared. The herb had also some power over the wound, for Frodo felt the pain and also the sense of frozen cold lessen in his side; but the life did not return to his arm, and he could not raise or use his hand.
Download


Copyright Disclaimer:
This site does not store any files on its server. We only index and link to content provided by other sites. Please contact the content providers to delete copyright contents if any and email us, we'll remove relevant links or contents immediately.