An Intellectual History of Terror (Routledge Critical Terrorism Studies) by Mikkel Thorup
Author:Mikkel Thorup [Thorup, Mikkel] , Date: November 25, 2021 ,Views: 58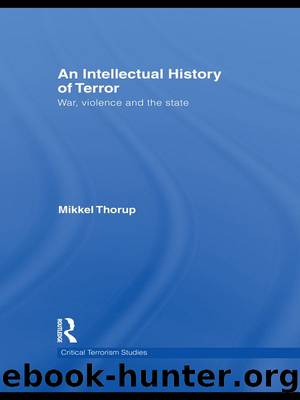 Author:Mikkel Thorup [Thorup, Mikkel]
Language: eng
Format: epub
Tags: Language &#038, Literature
Publisher: Taylor and Francis
Published: 2010-06-30T07:00:00+00:00



From sea blockade to semi-private warfare
That same month, Preble was released from duty and the new Commander, Samuel Barron, continued the blockade of Tripoli while, at the same time, initiating some new, tougher measures, trying not to force a negotiation but to replace the Pasha with a new ruler. In 1805, the USA launched a special operation against Tripoli, which would be repeated many times: the Americans initiated, financed and led a band of Arabic rebels against the Pasha to force through if not a regime change then at least a change in ruler.
This was a kind of filibuster expedition51 – a term used for private military operations launched from American soil (the Bay of Pigs invasion in April 1961 being the most infamous). In 1803, William Eaton, who had until then served as consul, returned home to present his plan for a military coup. President Jefferson nominated him 'Navy agent to the Barbary states', formally as a semi-official advisor to the American naval forces in the Mediterranean Sea but, in reality, it was an authorization to the coup.52 A small group of marines were sent to Alexandria in Egypt to locate the 'real' ruler of Tripoli, Hamet Karamli, an exiled older brother of the reigning Pasha, and to offer him his 'rightful' throne.
By the end of February 1805, a deal had been made with the exiled brother, promising American support to reinstate Hamet and overthrow his brother 'who obtained said sovereignty by treason, and who now holds it by usurpation, and who is engaged in actual war against the United States'.53 In return, Hamet promised to release the American prisoners without ransom, and Article 5 stipulated that the US expenditure on the military expedition should be reimbursed from the tribute money from various European countries (not unlike the assumption that Iraq could compensate America for the war costs through its oil revenues). Articles 6–8 directed Hamet to certain treaty obligations with foreign powers, nicely illustrating an also contemporary distinction between formal and real sovereignty. The USA offered Hamet formal sovereignty – basically, the appearance of sovereignty or only domestic sovereignty – in exchange for the USA dictating the foreign policy of the 'sovereign state'. This is what Carl Schmitt would later call – this time in regard to US–Latin America relations – 'officially absent but in reality present',54 which we today recognize from the formally sovereign states of Afghanistan and Iraq and a number of smaller 'humanitarian protectorates', such as Bosnia, Kosovo and others.
After having found and convinced Hamet, the Americans employed and led a 400-man, strong mercenary force of mainly Arabs, Turks and Greeks and, on 8 March 1805, they started marching from Alexandria to Tripoli. The expedition took them through the Libyan desert, and on 27 April there was a bloody battle at the port city of Derna, the first city taken by the Americans in the old world.
This was the first time Americans had fought outside the American continent – and it was in the company of a mercenary force.
Download


Copyright Disclaimer:
This site does not store any files on its server. We only index and link to content provided by other sites. Please contact the content providers to delete copyright contents if any and email us, we'll remove relevant links or contents immediately.