All Work and No Slay: A Paranormal Cozy Mystery (Witches of Devil's Orchard Book 1) by Skye Sullivan
Author:Skye Sullivan [Sullivan, Skye] , Date: November 24, 2021 ,Views: 57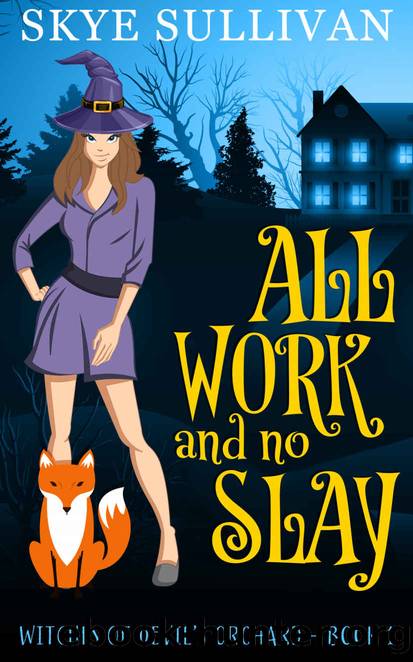 Author:Skye Sullivan [Sullivan, Skye]
Language: eng
Format: epub
Published: 2021-05-21T22:00:00+00:00



Chapter 16
I clench my teeth the entire drive to Crestview. I can feel the tension headache needling its way into my head, starting at the base of my neck and spreading its tendrils around my skull, where it will burrow behind my eye. I park and get out, double-checking the address on the building. I'm at the law offices of Berman & Cole, where hopefully I can get some answers. Mainly to my question of why lawyers always use the little ampersand instead of just writing out the word 'and.'
I throw open the door to the small office and a middle-age woman sits typing at the front desk. She looks up at me and then back at her computer screen. "Do you have an appointment?" she asks.
"I need to talk to Mr. Berman," I say, not exactly answering her question. "It's about the estate of Christopher Boyd."
"But do you have an appointment?"
"It will take ten minutes," I say. She looks at me, her dour face seemingly incapable of sympathy.
"It's fine, send her back." An old guy steps out from an office down the hallway. "I've got a minute."
She looks at me like she's bitter that she lost some sort of power struggle. I shrug and go down to Mr. Berman's office. He motions for me to sit and I do. The chair is probably older than I am, solid wood with ratty upholstery, and will probably live on to see all of us buried. Berman's office is decorated with diplomas, commendations, certificates and numerous other papers written in Ye Olde English script with embossed seals in the corners.
"You said you wanted to discuss the estate of Christopher Boyd?" he says. "I'm afraid I won't be able to divulge any confidential information about my client."
"I have some general questions," I say. "Boyd was my landlord. He owned the retail space that I lease. What happens to my lease now? Who inherits his property?"
"Whoever he named in his will," he says. "But I will not divulge that information."
"Of course," I say, kind of hoping that he will be able to divulge it. "But what about the lease and its terms and conditions?"
"A lease transfers from owner to owner. It would not be invalidated by his death or the property changing ownership."
That's what I thought. It's why the lease with Boyd's father stood when he died and Christopher inherited everything. "What about any land development deals he had going on? Hypothetically speaking."
"I'm not sure what you're talking about," he says. But I get the feeling that he's hiding something. Call it witch's intuition. His voice went up a few notes and his left nostril flared. Whatever's going on, it's related to the parcels of land at the end of Hell Highway.
Which means Granny and I are involved whether we like it or not—involved and possibly in danger.
The phone rings. He picks it up and nods his head. I hear the secretary from down the hall. "Hold on a moment," he says. He gets up and leaves to talk to her.
Download


Copyright Disclaimer:
This site does not store any files on its server. We only index and link to content provided by other sites. Please contact the content providers to delete copyright contents if any and email us, we'll remove relevant links or contents immediately.