All The Broken Places by John Boyne
Author:John Boyne [Boyne, John] , Date: September 17, 2022 ,Views: 121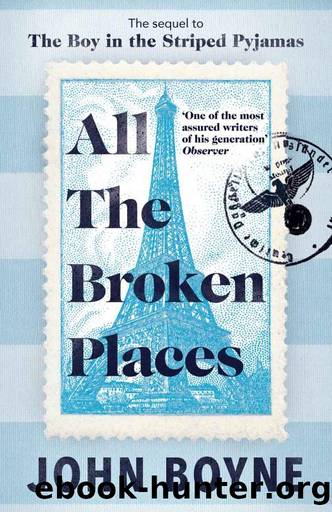 Author:John Boyne [Boyne, John]
Language: eng
Format: epub
Published: 0101-01-01T00:00:00+00:00



14
I waited until the following Tuesday, my half-day from work, to visit again, but this time with a clear plan in mind.
Disembarking the ferry shortly after 1 p.m., I made my way back along the esplanade, secure in the knowledge that Kurt would not return home for at least another five hours, by which time I, and my prize, would be long gone. Despite my malevolent intentions, I felt strangely calm as I approached the house, possibly because I was no longer stalking an unpredictable prey but had become a more focused predator. As I drew closer, I heard voices and caught sight of his wife and son in the garden. Passing by on the other side of the street, I saw her seated beneath the shade of the porch, reading, while the little boy sat close by, issuing what appeared to be a detailed set of orders to a collection of soldiers, all of which were standing to attention along the patio, preparing for battle. I walked on as before, as far as Smedley's Point, and then retraced my steps. Once I was close enough to be seen, however, I began to move unsteadily on my feet and emitted as distressed a cry as I could, stumbling against the fence.
Immediately, the woman leapt from her seat and ran out on to the pavement, while the child watched, intrigued by this unexpected moment of drama.
'Are you all right?' she asked, reaching out a hand to help me up.
'It's the heat,' I said, shaking my head and doing my best to look weakened. 'I left home without breakfast, which wasn't very clever on my part. But I'm fine, thank you. You're very kind.'
'Come and sit down,' she said, indicating the porch. 'Let me get you some water.'
'I couldn't,' I began faintly, but as I had expected, she refused to hear any protest.
'I insist,' she said, and I allowed her to lead me back towards the house, where she sat me down in the second chair before disappearing inside. It only took a few moments before I heard water running in the sink. The boy watched me, a look of suspicion on his face, before returning to his soldiers.
'What are you playing?' I asked him.
'War.'
'Is that a game?'
'It's the best game in the world.'
'And are you winning?'
'I won't know till it's over.'
'And perhaps not even then.'
'Here you are,' said his mother, reappearing now and handing me an ice-cold glass, which I accepted gratefully, taking a large gulp at first to reinforce how badly the heat had affected me.
'Thank you,' I said as she sat down next to me. 'I feel ridiculous now.'
'No need,' she said. 'These things happen.'
'But I'm disturbing your day.'
'Stay as long as you like.' She waved a hand in the air. 'It's just me and my son and, to be honest, I could do with a little adult company.'
I glanced towards her as she replaced her sunglasses on her face. She was once again dressed in the minimal required clothing and it could not be argued that she was not a beautiful woman.
Download


Copyright Disclaimer:
This site does not store any files on its server. We only index and link to content provided by other sites. Please contact the content providers to delete copyright contents if any and email us, we'll remove relevant links or contents immediately.