After Democracy by Zizi Papacharissi
Author:Zizi Papacharissi , Date: November 25, 2021 ,Views: 44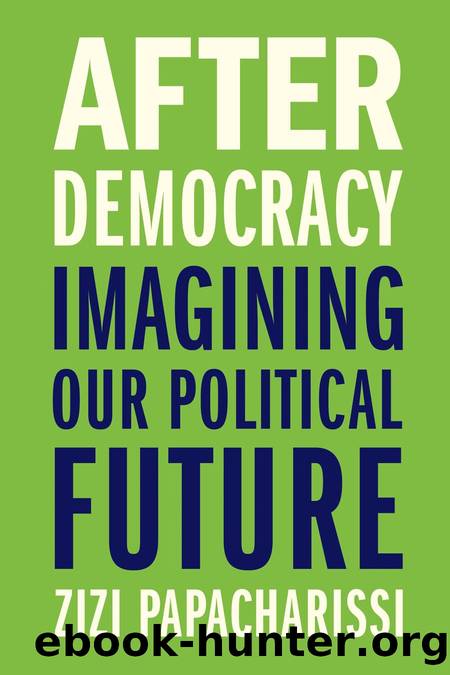 Author:Zizi Papacharissi
Language: eng
Format: epub
ISBN: 9780300245967
Publisher: Yale University Press



FOUR
Toward the New
Revolutions are nothing if not about new beginnings.1 This chapter connects the responses people provide when I ask them what they would like to see change about democracy. I ask what they hope might be better about democracy and listen to nuanced stories about democracy's failures. Some responses are focused entirely on what has gone wrong. Others consider what might be different. None find democracy ideal. If chapter 2 was about voice and equality and chapter 3 about noble intentions rendered invisible in practice, then the consensus that emerges though conversations summarized in this chapter is this: little is right, and a lot must change.
Still, change is gradual, and revolutions are long.2 And they have to be long, in order to attain meaning. Changing institutions involves first renegotiating their symbolic place in democracies. Many of the tiny acts of political participation described in the previous chapter form around the need to redefine how democratic institutions work. When people speak of contributing more to their own micro-communities through their everyday routines, they are actively engaging in a critique of how societal organizations work. Likewise, when folks engage in online debates, share memes, reproduce slogans, and participate in movements, they engage in efforts that have to do with renegotiating the meaning and impact of democratic institutions. A movement like #BlackLivesMatter, for instance, is not about making a statement that at first glance seems obvious. The Black Lives Matter refrain is a symbolic reminder that despite assumed advances in civil rights, social injustice persists. Likewise, the Occupy movement allowed people to stand up and be counted, in articulating the general message that core aspects of societal organizations in democracies need to be rethought. To change institutions, we must reimagine them first.3 Citizens communicate this through their everyday routines, although they are rarely listened to.
Transition is a key element of change, and both often make people uneasy. All of the countries I traveled through as I met and conversed with people seemed to be undergoing some form of transition. The United Kingdom went through two prime ministers and a polarizing nationwide debate on its future inside or outside the European Union. Greece had already pondered such a future and decided to stay in the European Union, at great cost, with a struggling economy, and with elections always looming. In Brazil and Mexico, I interviewed people before and after elections that were both promising and disappointing. In the United States, it seemed that we were realizing that we have always been polarized, even if we were unaware of the extent. Germany went through an uneasy transition that threatened the delicate balance its leadership has always observed between extreme right-wing and extreme left-wing factions. In Canada, the land the rest of the world often fantasizes about when all else falls apart, people have their own list of disappointments and unmet expectations.
The form of transition is a key aspect of effecting social change.4 The anthropologist Victor Turner, in studying social drama, conflict, and change, found
Download


Copyright Disclaimer:
This site does not store any files on its server. We only index and link to content provided by other sites. Please contact the content providers to delete copyright contents if any and email us, we'll remove relevant links or contents immediately.