The Zeppelin Deception_A Stoker & Holmes Book by Colleen Gleason
Author:Colleen Gleason [Gleason, Colleen] , Date: May 14, 2022 ,Views: 32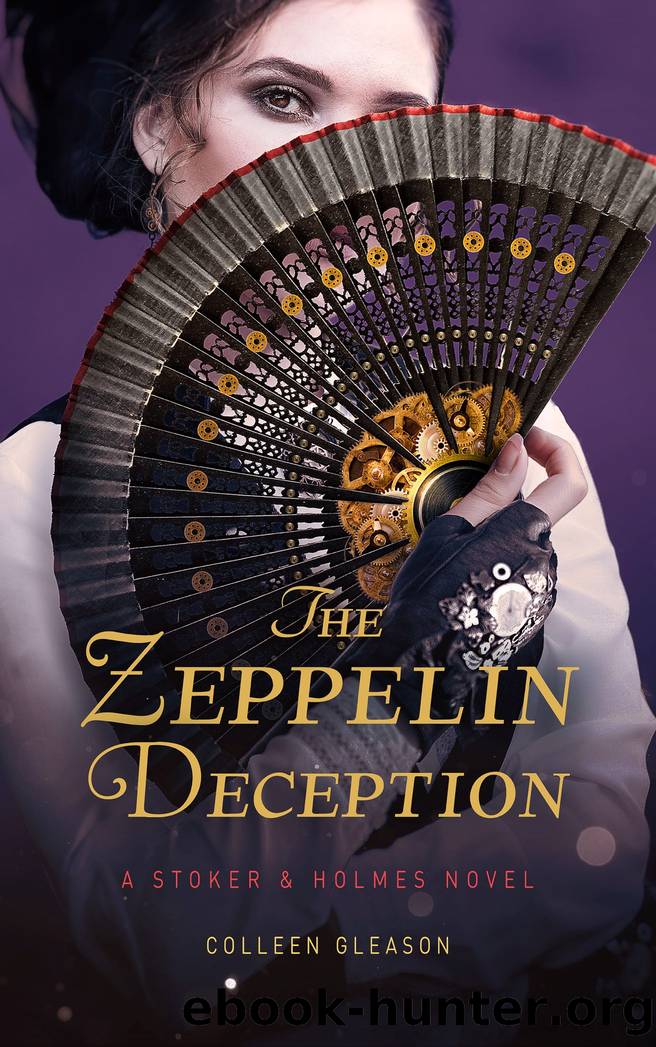 Author:Colleen Gleason [Gleason, Colleen]
Language: eng
Format: epub
ISBN: 9781944665517
Amazon: 194466551X
Publisher: Avid Press
Published: 2019-08-22T00:00:00+00:00



Miss Holmes
~ Of World & Time Travelers ~
Och, then, Miss Holmes," said Inspector Grayling. "I never thought I'd have occasion to cross the threshold of this establishment again."
He had, as instructed by a message from me (actually, one of several over the course of the last day), arrived to pick me up for Evaline's birthday masquerade at the former Mrs. Thistle's street fashion boutique.
His comment was in reference to the fact that during The Carnelian Crow Escapade, Evaline and I had discovered the deceased proprietress inside her shop. Grayling, of course, had been the one to manage the crime scene.
"I can assure you there are no dead bodies involved this time."
"Not yet, anyway," he muttered. Then his expression changed as he got a good look at my costume. His eyes bugged out of their sockets.
Smiling to myself—for I had hoped for such a reaction from anyone who saw my attire—I swept past him from the boutique, where Madame Trouxeau (it really was a ridiculous name, but the woman was quite a genius when it came to street fashion, so I decided it would be detrimental to my appearance to hold such creative license against her) was still nattering on about a last-minute customer who'd expected her to accommodate them for the costume ball.
But apparently this last-minute customer had promised to pay her an exorbitant amount of money, and as Madame Trouxeau was quite practical—except, clearly, when it came to the matter of her professional reputation—she accepted the fee and created (in her words) "a brilliant fashion arrangement in modern street style."
As her name would suggest, Madame Trouxeau was rather flamboyant, and the direct opposite of her assistant—a quiet blond woman who wore a long, simple gown that put me in mind of a medieval chatelaine's attire. She even went by the title "Lady" instead of madam. The two of them worked in tandem, speaking hardly any words between them as they outfitted me.
Grayling joined me in the carriage he'd arranged as our transport for the evening, and I had the opportunity to admire his costume as well. While it wasn't quite as unique as mine, his achievement in concocting his ensemble was more than adequate and rather dashing.
My companion was wearing breeches of mahogany velvet tucked into knee-high black boots that laced all the way up the front using small copper cogs as the hooks. I immediately noticed the slyly hidden pockets on the inside of each boot and was intrigued by the possibilities they presented. They would be the perfect place to secret a slender dagger or some other useful implement.
Grayling wore a rather simple but dashing duster that reached past his knees and was made from dark blue wool. As he climbed into the carriage in a pleasant waft of peppermint, I observed several pockets on the inside of the coat as it flapped open with his movements, then went on to admire the array of timepieces (both modern and a bit dated) attached to the lapels. Clearly, time was an important clue to his identity; not that I had needed that hint, of course.
Download


Copyright Disclaimer:
This site does not store any files on its server. We only index and link to content provided by other sites. Please contact the content providers to delete copyright contents if any and email us, we'll remove relevant links or contents immediately.