The Spy's Lady_A Steamy Victorian Historical Spy Series (Romancing Intrigue Book 2) by Laura Shipley
Author:Laura Shipley [Shipley, Laura] , Date: June 23, 2022 ,Views: 21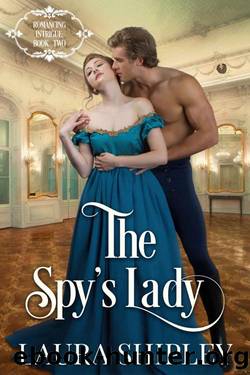 Author:Laura Shipley [Shipley, Laura]
Language: eng
Format: epub
Published: 2020-10-06T04:00:00+00:00



Chapter 16
Everything had gone to hell. Hugh had not expected an ambush so close to the house. At least his senses had not left him completely while he had been talking to Emily; otherwise, he would not have heard the click, signaling the cocking of the gun. Rage surged through him, both at himself for letting Emily be taken and at the man behind the attack. The person orchestrating these incidences was crafty. Hugh would give him that.
As soon as the abductor had taken off with Emily, Hugh had sprinted around the house and called for the horses. He didn't wait for all of them to be saddled; he jumped on the first horse and charged off, knowing his men would be right behind him.
Now, Hugh's horse raced back to the last point he had seen Emily. He rounded the bend and made straight for the woods. It was the only logical choice that would provide cover.
Within a few feet, Hugh came upon two horses tied to a tree. He was on the right track; he only prayed he was not too late. Hugh dismounted and searched for tracks, but the darkness made it difficult to see. The moonlight barely penetrated the trees, and he had to decide. The longer Hugh waited, the farther away they would take Emily. If she came to any harm, Hugh would spend the rest of his days hunting down the men responsible. The strength of the sentiment caught him off guard, but he did not have time to think about it. There would be time later when Emily was safe.
Hugh mounted his horse and was about to leave when he heard a noise. It was his own men entering the woods. He ordered half of them to follow him and instructed the rest to split up and search in the other direction.
Emily and her kidnapper had at least a five-minute head start. The thought of harm coming to Emily spurred him to go faster. After years in the military, Hugh thought he knew fear. But seeing a knife held to Emily's throat made him realize nothing compared to what he had felt at that moment. A madman had threatened the life of the woman who had stolen his heart. His body had been frozen to the spot, and his mind had gone blank for an instance. It was a mistake he would not make again. Hugh's mind focused with fierce determination. Nothing would stop him from saving Emily. God help the man who had her; he was as good as dead.
Hugh allowed the horse full rein. The woods cleared enough to allow some moonlight to guide his way. Trees partially covered the road and tore at Hugh's shirt, but he would not be deterred. After a half mile the road forked. He took the right prong and told his men to take the left.
After rounding a bend, he spotted a single rider ahead. It had to be them. He kicked his horse into a faster pace.
Download


Copyright Disclaimer:
This site does not store any files on its server. We only index and link to content provided by other sites. Please contact the content providers to delete copyright contents if any and email us, we'll remove relevant links or contents immediately.