The Sorcerer's Apprentices: A Season in the Kitchen at Ferran Adrià's elBulli by Lisa Abend
Author:Lisa Abend [Abend, Lisa] , Date: August 1, 2020 ,Views: 152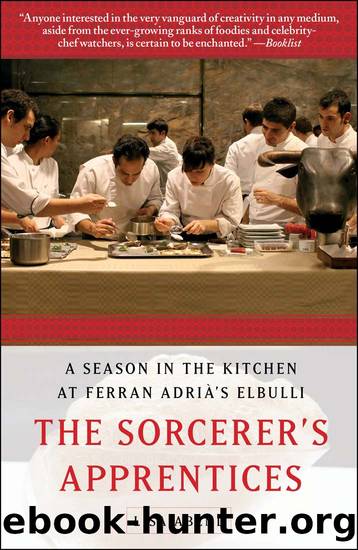 Author:Lisa Abend [Abend, Lisa]
Language: eng
Format: azw3
Publisher: Atria Books
Published: 2011-03-21T16:00:00+00:00



Although Andrea was safe in the United States, she quickly chafed at the constricts of living with her uncle and his family in the Atlanta suburbs. Six months after arriving, she moved to a new apartment downtown, which she shared with two male roommates ("My parents really loved that," she recalls). After she passed her language courses, she was ready to enroll in college and soon had to choose a major. With her eye on a career in business, she first picked math, but a few months into that program, realized she wanted to do something more artistic. As she pondered a future career, she kept coming back to all those times she had gone out to eat with each of her parents. It wasn't so much the food that had drawn her then—though she certainly enjoyed that—as the atmosphere. The lovely tables and chairs, the flattering lighting, the pristine table settings: between the physical beauty and the conviviality, restaurants engendered a sense of well-being she felt in few other places. She determined to become a restaurant designer and began taking classes at Georgia State's hospitality school.
To earn a little money and get some hands-on experience, she also took her first restaurant job, as a server at the American Café. The place was nothing special—a casual restaurant located in one of Atlanta's many malls that served a lot of burgers and fried mozzarella sticks. But it had a few house-made specialties that were tasty enough, including a potato soup heavy on bacon and cheddar. Andrea didn't love waiting tables, so in her spare time she asked one of the restaurant's Mexican cooks to teach her a few recipes. It was the first time she had ever really cooked, and she enjoyed the experience enough that she soon began looking for an externship in a restaurant kitchen. She landed at the Buckhead Diner, an upscale diner owned by the city's most important restaurant group; to this day, it is one of Atlanta's most popular restaurants. On paper, many of the dishes were the same as those served at her previous job, but the quality was much higher and the recipes more sophisticated. At the Buckhead Diner, the meat loaf was made with veal and wild mushrooms, the potato chips were house-made and topped with Maytag blue cheese, and even the burger came on a fresh-baked egg bun. Andrea was entranced, and not only because she had started dating the sous chef. "I thought I was making the best food in the world," she says.
When her externship was over, Andrea decided to combine her newfound passion for cooking with her lifelong desire to travel. She enrolled in a cooking class at the Sadler, a restaurant in Milan, and left, early in the summer, for Italy. It wasn't until she arrived—and paid the $2,000 tuition—that she learned she wasn't exactly in the right place; the other students were older than she and conspicuously better dressed. It soon became clear to Andrea that the place was a cooking school for rich tourist housewives who wanted to watch the chef make ravioli.
Download


Copyright Disclaimer:
This site does not store any files on its server. We only index and link to content provided by other sites. Please contact the content providers to delete copyright contents if any and email us, we'll remove relevant links or contents immediately.