The Responsibility to Protect in Libya and Syria (Routledge Research in International Law) by Yasmine Nahlawi
Author:Yasmine Nahlawi [Nahlawi, Yasmine] , Date: November 23, 2021 ,Views: 25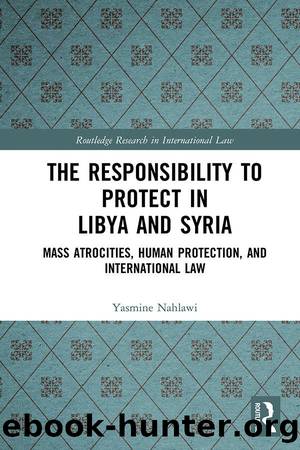 Author:Yasmine Nahlawi [Nahlawi, Yasmine]
Language: eng
Format: epub
Publisher: Taylor and Francis
Published: 2019-11-14T08:00:00+00:00



6.5.1 R2P and regime change
The UNSC has in the past invoked its Chapter VII powers to authorise the pursuit of regime change (including in R2P situations), which suggests that regime change does not in itself represent a misuse of the UNSC's powers. In Haiti, for example, after non-military initiatives failed to restore democratically elected President Aristide following a military coup in 1991, and also given an ensuing humanitarian crisis,105 the UNSC adopted Resolution 940 under its Chapter VII powers which determined that the situation in Haiti 'continues to constitute a threat to peace and security in the region' and authorised States to use 'all necessary means to facilitate the departure from Haiti of the military leadership'.106 This Resolution, which clearly promoted regime change, was admittedly limited or controversial on three grounds. First, it emphasised the 'unique character' and 'extraordinary nature' of the situation in Haiti and thus described its response to the situation as an 'exceptional' one.107 This perhaps limits the precedential status of the Haiti case. Second, Mexico, Uruguay, and China did not consider the situation in Haiti serious enough to constitute a threat to international peace and security, and hence protested the UNSC's right to invoke its Chapter VII powers in order to address it.108 Third, these same States, along with Cuba, Venezuela, and Brazil, argued that peaceful options for resolving the issue had not been exhausted and that the use of force was therefore unwarranted.109 In evaluating these criticisms, however, it is important to note that the lawfulness of the pursuit of regime change was not subject to dispute, as none of the States challenged the competence of the UNSC to authorise this mode of action. It is also significant that China and Brazil (as UNSC member-States) abstained from rather than voted against the Resolution despite its being clearly aimed at regime change. The remaining thirteen UNSC member-States voted in favour of the Resolution and did not voice any reservations pertaining to the pursuit of regime change following the adoption of a Chapter VII mandate.110
105 See Michael D. Ramsey, 'Reinventing the Security Council: The U.N. as a Lockean System' (2003–2004) 79 Notre Dame Law Review 1529, 1533–4.
106 UNSC Res 940 (31 July 1994) UN Doc S/RES/940 at Preamble, Para 4.
107 Ibid., Para 2.
108 UNSC 3413th Meeting (31 July 1994) UN Doc S/PV.3413 at 4, 7, 10.
109 Ibid., 4, 6–10.
110 Mexico, Uruguay, Cuba, and Venezuela were not UNSC member-States at the time.
Download


Copyright Disclaimer:
This site does not store any files on its server. We only index and link to content provided by other sites. Please contact the content providers to delete copyright contents if any and email us, we'll remove relevant links or contents immediately.