The Moonlight Blade by Tessa Barbosa
Author:Tessa Barbosa , Date: March 21, 2023 ,Views: 73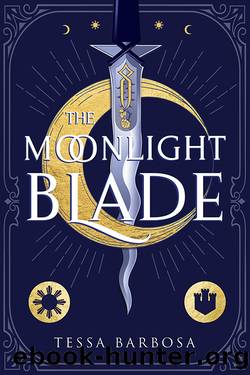 Author:Tessa Barbosa
Language: eng
Format: epub
Tags: fantasy; fantasy romance; young adult; young adult fantasy; adventure; multi-cultural romance; Moonlight Blade; Moonlight Blade by Tessa Barbosa; Tessa Barbosa; Glass fortress; Gods; Mythology; Demons; Light Goddess; Sundo; competition; Magic; Sigils; fortress; destiny; action-adventure; adventure fantasy; young adult adventure; diverse romance; epic fantasy; epic; precolonial; gods; multi-cultural; coming of age; coming of age romance; enemies ot lovers; enemies ot lovers romance; forbidden love; mistaken identity; overcoming odds; redemption; reunited lovers; revenge; dark; mysterious romance
Publisher: Entangled Publishing, LLC
Published: 2023-01-14T21:44:55+00:00



Chapter Twenty-Five
I jerk Ingo's shoulders harder, but he does not twitch or groan. His chest rises so little that I bend close to his nose, and a faint exhalation tickles the hairs near my ears. His breath smells of molding oranges, just like Alen's. I move the back of my hand close to his forehead but don't dare touch his skin. He feels too hot. Gingerly, I pull up his sleeves and see the rash has already spread upward. Whatever this malady is, it works quickly, and I'm trapped in here with it. Heavens help me, I hope it isn't in the air, or I'm doomed.
I lay Ingo flat on the floor to open his lungs, and I start banging at the wall. "Is anyone out there? Ingo's sick! I need help!" I might not care for him, but I cannot let him die.
But the door doesn't open. Maybe it's not supposed to. Maybe we're being disappeared, like the other candidates and the missing Archivists. And that means no one's coming to help.
I can't afford to fail this test. Panic rises up from my gut. Payan warned I had to do well or I may not score high enough to continue. I rub at my eyes in frustration. My mother is so close. I just need a little longer.
I need to get out of this on my own, because I am my mother's only hope. I take a deep breath and gather my resolve. There's no time to despair.
I stuff all of Ingo's discarded opening spells into my pockets to try later, and I return to the table and grab a small scrap of paper that isn't yet stained. I clumsily grab a brush with my bandaged hand and drip paint all over the table. The orasyon I draw is barely readable, but I press it against the wall and spit on it. The wall does not budge. I can't even begin to know what to do, but I keep trying. The lamp gutters and dies. The orasyon of illumination I drew fizzles out in seconds instead of minutes because the symbol is so badly done. The gauze on my left hand grows sticky with paint, despite my care not to touch it, and my fingers begin to throb, despite the numbing spells that Virian drew on my bandages.
I return to the desk, less steady than before, and try again and again. My hands burn. The pads of my fingers go numb, and my skin crawls as if I'm covered in bug bites. I spot two red dots on my skin that I want to scratch, but I resist.
Ingo does not seem worse than before, but neither is he any better. When I place my paint-stained hands on him, he recoils.
The rashes spread away from the most stained of Ingo's fingers. Poison in the paint? Maybe this was what Manong Alen wanted to warn me about, but I still don't know how any of it is connected to my mother's secret.
Download


Copyright Disclaimer:
This site does not store any files on its server. We only index and link to content provided by other sites. Please contact the content providers to delete copyright contents if any and email us, we'll remove relevant links or contents immediately.