The Knees of Gullah Island by Dwight Fryer
Author:Dwight Fryer , Date: October 29, 2022 ,Views: 59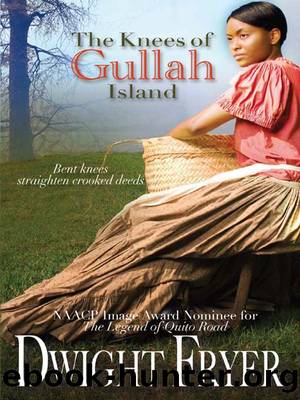 Author:Dwight Fryer
Language: eng
Format: epub
Publisher: Kimani Press
Published: 2008-10-14T16:00:00+00:00



On the front piazza of the Baldwin home, the Reverend Mr. Charles Crenshaw and Millicent Baldwin sat in chairs of flat wooden boards made comfortable by bright blue fowl-feather stuffed cushions. The oil-based white paint glistened on the boards of the backs and bottoms of the traditional seaside furniture. A Negro maid in a starched black-and-white uniform produced a swishing sound with each step she made toward a small rectangular table in front of the pair.
The aroma of fine English tea drifted around the screened open-air room while she filled two cups. The servant began to prepare a cup to the specifications of her mistress, two teaspoons of brown sugar and heavy cream. She served Miss Millicent's tea and said, "Rev'end Crenshaw, you still like yo's with white suga'?"
Charles Crenshaw never removed his eyes from his hostess, but he said, "Yes, thank you, that would be fine."
Millicent Baldwin and the Captain expected and welcomed Charles's visit. He was their priest even though Charles Crenshaw now worked for the diocese and not as pastor of St. Philip's.
Charles accepted the steaming tea from the servant. "How long has he been asleep?" Charles asked.
"His struggles are upon him today," Miss Millicent said. A slight frown replaced her eternal smile. "So he climbed up to his crow's nest around noon. The girl took his dinner up an hour ago and found him fast asleep, surrounded by his old charts, log books and Bible."
"It's in his blood," Charles said.
"I'm not worried about his blood, Charles." Miss Millicent looked away across the harbor toward the sea that had taken her husband away from her again and again. "Can he ever get it out of his spirit?" Her blue eyes watered and she said, "Pastor Crenshaw, will he ever feel fo'given for his past acts?"
"Miss Millicent, it's too difficult to say. I think all of us connected with these things wrestle with it on some level, but salvation is a gift and a choice there for us all." He raised the white saucer to his chest level, lifted the cup to his mouth, and sipped the brew. "This is an English variety."
"Yes," Miss Millicent looked at him and said, "a fine Brit' gentleman like the Captain prefers tea purchased from his homeland to the local varieties." She looked out to sea again. "I know you came to talk about our donation." The physical wisp of a woman looked into his eyes. "We are going to support the school the Episcopal diocese is building for the Gullah people on Edisto. Our donation will be generous."
"Thank you," he said. "I've worked a long time to convince my bishop to expand our work in the Sea Islands."
"We put those people out there," Miss Millicent said, "made it illegal for them to write or even read." She shook her head. "They speak that confounded language that confuses me every time the Captain takes me out there."
Charles Crenshaw mocked her with a short speech in fluent Gullah, "Oona know wa dey say, ainty? Jes a leeleetle bit ob yeast da mek kall de bread dough rise.
Download


Copyright Disclaimer:
This site does not store any files on its server. We only index and link to content provided by other sites. Please contact the content providers to delete copyright contents if any and email us, we'll remove relevant links or contents immediately.