Signposts of the Spiritual Journey by John Siddique
Author:John Siddique , Date: November 24, 2021 ,Views: 59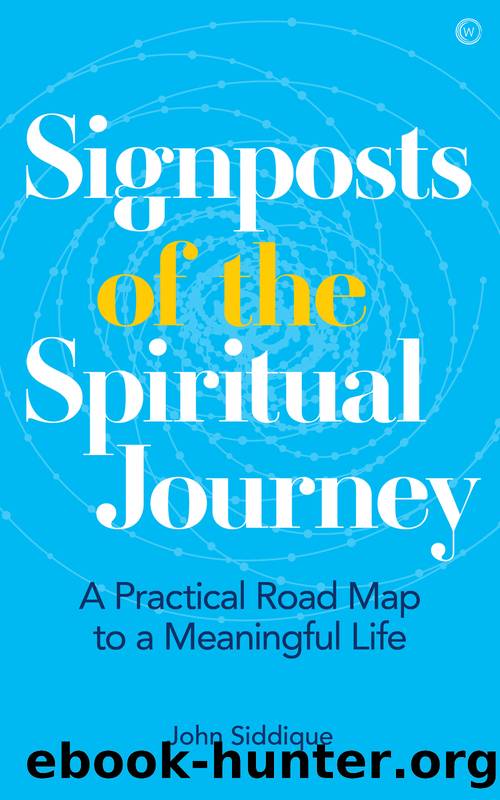 Author:John Siddique
Language: eng
Format: epub
ISBN: 9781786786111
Publisher: Watkins Media
Published: 2021-11-15T00:00:00+00:00



The way through
The truth is that these things are showing up to be met, to be healed, and most importantly, integrated or transcended. They cannot be bypassed, but we do have a choice in how we meet them. If you are moving toward being based more in present awareness, it can seem that this stuff is coming at you quickly and unrelentingly. That is until you drop back to your heart and bring real awareness to what is going on. Then you start to realize that they are showing up because they have not been met properly yet. Even more importantly, if we can begin to welcome these arisings for the gifts that they actually are, we will start to welcome them better when they show up and we can take the opportunity to sit with them, learn the lessons they hold. We free those energies by reintegration and by going beyond concept to bring both awareness into play and taking whatever steps we need to in our human life to help facilitate our growth. I tend to think of this as being the most rock 'n' roll aspect of the whole journey. Rather than bristling to continue the fight with ourselves, we get in there and learn to dance with what needs to be met by us.
The choice that lies before each of us here is whether we will allow understanding of what is going on and to lovingly meet ourselves, or get lost in feeling like all of this is an assault on us, while slipping into blame and shame and attempts at bypassing and so on. Meeting the awareness of the present moment is always the first key. The challenge is to rebel against that voice in us that wants us to lay blame. We can certainly bring understanding to the parts that our parents and society have played in our conditioning, but even with knowing these things, it is us at the end of the day who have to take responsibility for ourselves, for our emotions, our health, and for our journey to healing and wholeness.
If we give ourselves the space and the time we need and we face what forgiveness, love and commitment really mean for us, we will move ahead. We will slip, we will grow, we will slip again. We begin to see that our psychological and spiritual paths are very closely linked, though they are not the same. Awakening is not an arm of personal development or therapy, but without addressing the psychological side of life and clearing the path to present awareness, we won't have the space in us to awaken properly. Nor will we have the humanity and compassion available to us to meet life in the way it asks of us. If there is an awakening, it will get distorted by the lenses of what has gone unhealed in us. We have seen this far too often in teachers and gurus who get lost in money, sex, power and politics.
Download


Copyright Disclaimer:
This site does not store any files on its server. We only index and link to content provided by other sites. Please contact the content providers to delete copyright contents if any and email us, we'll remove relevant links or contents immediately.