Say No To Heart Disease: The drug-free guide to preventing and fighting heart disease by Patrick Holford
Author:Patrick Holford [Holford, Patrick] , Date: October 15, 2021 ,Views: 63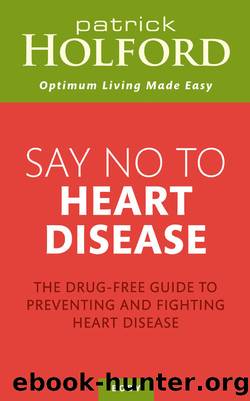 Author:Patrick Holford [Holford, Patrick]
Language: eng
Format: epub
ISBN: 9780748133765
Publisher: Little, Brown Book Group
Published: 2012-09-05T19:00:00+00:00



The best anti-inflammatory diet
In terms of overall diet, the best for reducing inflammation is a low-GL diet,163 high in fibre, with oily fish and plenty of fresh fruits and vegetables.164 A recent review of clinical studies found that increasing dietary fibre reduces CRP165 so you should aim to eat as much soluble fibre as you can, ideally in the form of oats, barley, rye, aubergine and okra.
Getting your blood sugar under control is critical. When you consume too many high-GI foods or drinks, or you drink too much alcohol, this increases the triglycerides in your blood and this is strongly related to increasing CRP.
All these principles are included in my Heart-friendly Diet in Part 4. A Mediterranean-style diet is certainly heading in the right direction for keeping down inflammation, and it has many other health benefits beyond protecting your heart and arteries.
Although this kind of diet is certainly good for everybody, the extent to which you are likely to benefit from supplementing extra anti-inflammatories depends on whether you are in pain or have a raised CRP level. This is very likely if you already have heart disease, diabetes or metabolic syndrome, or you are significantly overweight with a bit of a 'spare tyre'. In Part 4 I'll show you how to build your own personalised supplement programme based on your particular needs.
Finally, exercising regularly is a great way to lower your level of CRP and inflammation. As you'll see in the next chapter the ideal exercise regime includes both aerobic and resistance exercise, and it is precisely this combination that, when studied in healthy women, has been shown to literally halve CRP levels, from 2mg/dl to 0.8mg/dl, which is an ideal level of CRP.166
Summary
Inflammation is a critical process involved in arterial damage. You can measure your level of inflammation with a CRP blood test and reduce it by:
• Following a low-GL, Mediterranean-style diet.
• Eating more fibre.
• Eating oily fish and supplementing omega-3 fish oils.
• Adding turmeric to your meals.
• Eating foods rich in vitamins E and C, and also supplementing them.
• Supplementing resveratrol, carnitine and zinc.
• Exercising, both aerobic and resistance exercise, which is explained in the next chapter.
Chapter 22 helps you build your own supplement programme.
Download


Copyright Disclaimer:
This site does not store any files on its server. We only index and link to content provided by other sites. Please contact the content providers to delete copyright contents if any and email us, we'll remove relevant links or contents immediately.