Probable Impossibilities by Alan Lightman
Author:Alan Lightman [Lightman, Alan] , Date: June 11, 2021 ,Views: 87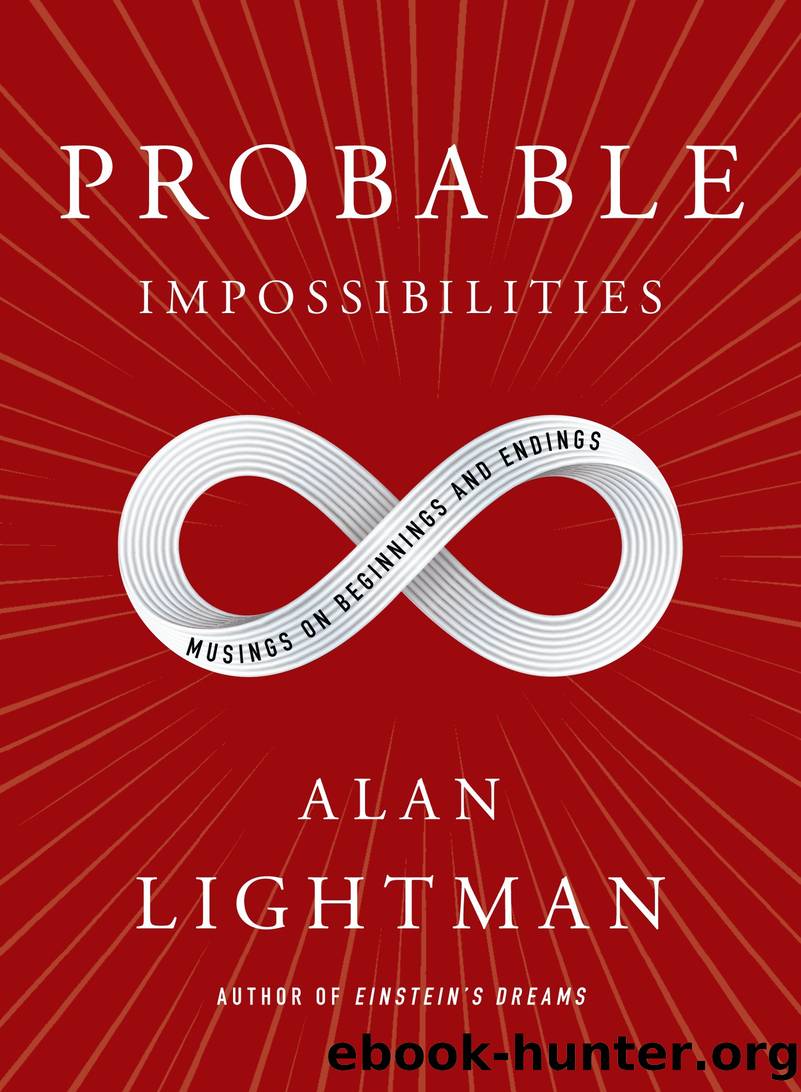 Author:Alan Lightman [Lightman, Alan]
Language: eng
Format: epub
Publisher: Knopf Doubleday Publishing Group
Published: 2021-02-09T00:00:00+00:00



The Ghost House of My Childhood
The distant Earth bristles with tiny imitations of houses and roads as I slide through the air in the silver ghost, a miracle of science. Now that my second parent has passed away, all things seem strange. Am I awake or asleep? I am flying back to Memphis, the place of my childhood, to settle the last of my father's affairs and to see one final time the house where we all lived.
I sit at a table at Panera Bread. After lunch, I will get into my rented car and drive out to West Cherry Circle. I was hoping my brothers would join me on this trip to our family home, but they don't want to see it again. We sold the house months ago. I look out a window toward Poplar Avenue and remember the diner that once stood across the street, the Ohman House, where my friends and I used to go late at night, after high school dances and parties, to eat hamburgers smothered with onions, hash brown potatoes, and black bottom pie.
It's time. I get into the rented car. When I last visited the house, two years ago, my father was waiting to greet me. He sat in the den in his wheelchair, wearing a warm sweater even in April and soft bedroom slippers, an open book on his lap.
I turn onto West Cherry Circle, drive past familiar houses. Flowers are blooming, it's spring. But something is wrong. The house isn't here. There's a hole in space where the house used to be. Slowly, I inch up the driveway and park the car. Something is terribly wrong. I feel as if I'm not in my body any longer. My body is a distant, cold moon. There was a two-story house here, with pink brick walls and a porch with white posts and dormer windows. I can see right through the empty air to bushes and trees on the other side. And on the ground where the house was, new grass. Not a single brick or splinter or piece of debris.
Slowly, I get out of my car, a knot forming in my gut, somebody's gut, and I walk around the patch of grass where the house used to be. The space is too small. I stare at the driveway, follow it with my eyes as it winds down to the street, curves by the towering magnolia around which my brothers and I once chased one another with a gushing garden hose. I stare at the neighboring houses, the fence at the back of the lot, thinking that somehow I've made a mistake.
I take a step back, blink. But there is only the silent, dead air. There was a house here. There was a cosmology of lives lived here, meals of fried chicken and mashed potatoes at the wood table in the kitchen, closets of clothes, drawers, homework by the light of the maroon double lamp, cops and robbers games with my brothers, my father shaving in the morning, evenings watching TV.
Download


Copyright Disclaimer:
This site does not store any files on its server. We only index and link to content provided by other sites. Please contact the content providers to delete copyright contents if any and email us, we'll remove relevant links or contents immediately.