Intellect and Craft: The Contributions of Justice Hans Linde to American Constitutionalism by Robert F Nagel
Author:Robert F Nagel [Nagel, Robert F] , Date: August 12, 2022 ,Views: 20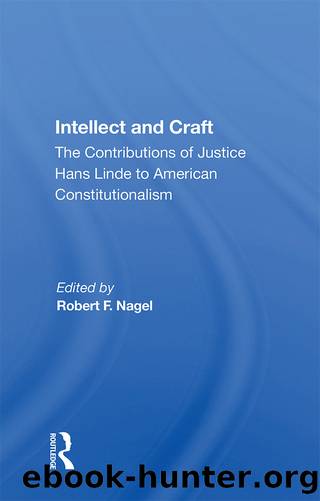 Author:Robert F Nagel [Nagel, Robert F]
Language: eng
Format: epub
Tags: International Relations, Political Science, General
ISBN: 9780429722950
Google: CgWcDwAAQBAJ
Goodreads: 45913824
Publisher: Routledge
Published: 2019-04-18T00:00:00+00:00



Conclusion
The Court of Appeals erred in sustaining FDAB's assumption that its task was to find "community moral standards" as a fact, and that the fact in this case needed no evidence. Because the court and FDAB were satisfied that the outcome in this case could not be in doubt, they did not stop to consider the implications of that approach when "community moral standards" are in doubt. "Easy" cases make bad law.
It is regrettable that final resolution of this case has been delayed, as the dissent notes. Perhaps the Court's first opinion might have anticipated and included further guidance on the statutory issue. Possibly FDAB would have reached the same result on its own responsibility, without reference to public opinion. Some passages of its order suggest as much; but the order was based, and was sustained by the Court of Appeals, on the erroneous premise stated above. A reviewing court cannot affirm an order on the grounds that the judges themselves would reach the same result under the correct premise or believe that FDAB would do so, unless the result is compelled as a matter of law. But the legislature has entrusted the determination of "immorality" to FDAB, not to the courts beyond the ordinary function of judicial review.
Because FDAB's order confused interpretive with fact-finding approaches to the statutory standard, we must once more remand the order to FDAB for decision pursuant to a correct understanding of its statutory responsibility. Petitioner is entitled to be heard on criteria for FDAB's interpretation of "immorality," but no further evidence need be taken unless a criterion used by FDAB requires it.
The Court of Appeals is reversed, and the proceeding is remanded to FDAB.
[1]. The minority report, located in the files of the Oregon Historical Society, would have provided:
No division of the common school fund, or of any annual apportionment, shall ever be made at the instance of, or for the use and benefit of, any religious sect or persuasion.
No distinction in the selection of incumbents for office in any department of the common school system, or in the eligibility of instructors, or in the privileges of patrons and pupils shall ever be made on account of religious opinion, provided such religious opinion be not against the police, peace, and dignity of the state.
No sectarian influence in behalf of or against any religious tenet or persuasion shall be inculcated in any common school in this state.
Download


Copyright Disclaimer:
This site does not store any files on its server. We only index and link to content provided by other sites. Please contact the content providers to delete copyright contents if any and email us, we'll remove relevant links or contents immediately.