Extra Virgin by Gabriele Corcos
Author:Gabriele Corcos , Date: April 5, 2015 ,Views: 314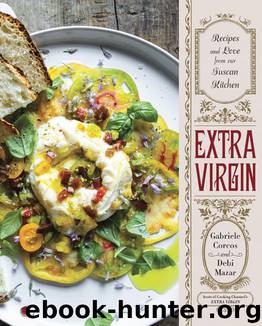 Author:Gabriele Corcos
Language: eng
Format: mobi, epub
ISBN: 9780385346061
Publisher: Crown Publishing Group
Published: 2014-05-05T21:00:00+00:00



Octopus Salad
OCTOPUS SALAD
INSALATA DI POLPO
SERVES 6
G: This warm-ish salad makes for a great meal. Octopus requires attention at first, because if you overdo it during the initial cooking, it gets too mushy. You're looking for that window when the octopus has bite, yet breaks in your mouth. Many cooks have their tricks regarding this—including adding a wine cork to the pot, since the cork contains an acid that tenderizes protein. But the trick I subscribe to is adding white wine vinegar to the boil and letting the octopus cool in its own bath of cooking water.
Kosher salt and freshly ground black pepper
1 large octopus or 2 medium-to-small octopi (about 1 pound total)
2 garlic cloves
1 carrot, roughly chopped
1 celery stalk, roughly chopped
½ cup white wine vinegar
2 russet (baking) potatoes, washed
4 tablespoons extra virgin olive oil
1 cup cherry tomatoes, quartered
5 ounces baby arugula
1 tablespoon finely sliced chives
Juice of 1 lemon, for serving
Bring a large pot of salted water to a boil. Add the octopus, garlic, carrot, celery, and vinegar, stir well, and cover. Reduce the heat to medium-low and cook for 30 to 45 minutes, until tender but still a little firm. Remove from the heat and let the octopus cool in the cooking water for about 30 minutes.
In a large pot, combine the potatoes and cold water and bring to a boil. Cook for 10 to 15 minutes, until just tender. Drain, cool, peel, and cut the potatoes into 1-inch cubes.
In a large skillet, heat 2 tablespoons of the oil over medium-high heat until hot. Add the potatoes and season lightly with salt and pepper. Cook for 7 to 10 minutes, until browned on all sides. Add the tomatoes and toss for 1 minute, or until softened. Set aside.
Using a knife, remove the head from the octopus and cut the tentacles into ½-inch pieces. If you use the head, remove the teeth and cartilage with a paring knife. Cut the head into thin strips no more than 1½ inches long.
In a large skillet, heat the remaining 2 tablespoons olive oil over high heat until just smoking. Add the chopped octopus in a single layer, lightly season with salt and pepper, and cook undisturbed for 5 to 6 minutes, until well seared on one side. Flip and cook an additional 5 minutes to sear the other side. Remove from the heat.
On a platter, make a bed of the arugula and top with the potatoes and the octopus. Sprinkle with the chives and dress with the lemon juice.
Download


Copyright Disclaimer:
This site does not store any files on its server. We only index and link to content provided by other sites. Please contact the content providers to delete copyright contents if any and email us, we'll remove relevant links or contents immediately.