Casting Shadows by Dziyana Taylor
Author:Dziyana Taylor , Date: February 24, 2023 ,Views: 51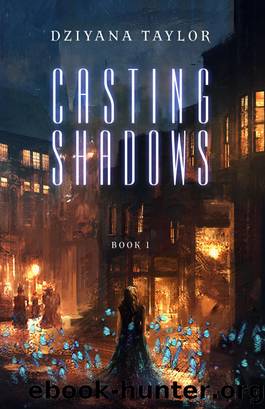 Author:Dziyana Taylor
Language: eng
Format: epub
Tags: paranormal romance, supernatural romance, fiction adult romance, adult romance, small town romance, paranormal adult romance, small town paranormal
Publisher: GenZ Publishing



* * *
Time— what a unique element of life. It slips away so easily, and yet when missing someone you love, it seems to stop, dragging you with it into the everlasting spiral of uncertainty. It was unbearable to think Derek had to leave again. Letting him go, when his heart beat heavy in his chest with the weight of the past, appeared to be the worst departure ever. But I knew that no matter what, I had to push through. Even if it meant draining his heart from the world of shadows.
The horse galloped swiftly over the water and the mud, neighing with freedom and amusement. Willow trees, luscious bushes, the mirage lake— all of it faded behind us when Moon raced to the clouds. We floated over broad fields, and I had to keep my eyes closed. Apparently, I feared heights almost as much as I feared demons. Derek was silent the whole way, but I didn't blame him. It was pleasant for the stillness to pass between us. After all, it didn't hurt anyone.
When Moon suddenly began to lose height, we ended up standing next to a medium-sized house made of terracotta bricks. A wine barrel rested at the wooden front door, but it was empty; someone was using it for a rose garden. White-framed windows on both sides of the house opened into the wheat fields and the forest, with nothing else in their view. I stepped inside, and the aroma of flowers hit me with a wave of sweetness. Derek tied the horse to the ivory column of the house and followed the sound of my footsteps inside. The chandeliers on the walls lit up as he walked.
The ceiling was a carpet of beautifully carved tiles. The walls were royal wallpaper. I followed him down a long hallway into a living room fringed by vintage furniture and heavy auburn curtains. We stopped by two armchairs with lion heads forming their arms. I inched closer to Derek. He was right about the scars— there weren't many left. As I traced them with my fingers, he flinched.
"Why is it so hard for you to let me in?" I asked, breaking the silence.
He slid into one of the armchairs near the fireplace. "Because I am not used to someone picking my life apart. I am not some chess game. I don't need to be solved. I know my worth—I am sick of judgment. I came a long way to get to where I am. And you, of all people, should know what that feels like," Derek said and scratched his head. "This house is cold." He only looked once at the logs, and they set themselves ablaze. "There. Better."
"I'm not going to judge you! Whatever it is you did! You think you're the only one with skeletons in your closet?" I'd had enough this time. "I'm always the villain in your story. I'm sick of it— like I'm not to be trusted. I never did anything to you to form such an opinion of me.
Download


Copyright Disclaimer:
This site does not store any files on its server. We only index and link to content provided by other sites. Please contact the content providers to delete copyright contents if any and email us, we'll remove relevant links or contents immediately.