Son of Shiva by Kannan Preetha Rajah
Author:Kannan, Preetha Rajah [Kannan, Preetha Rajah] , Date: November 24, 2021 ,Views: 77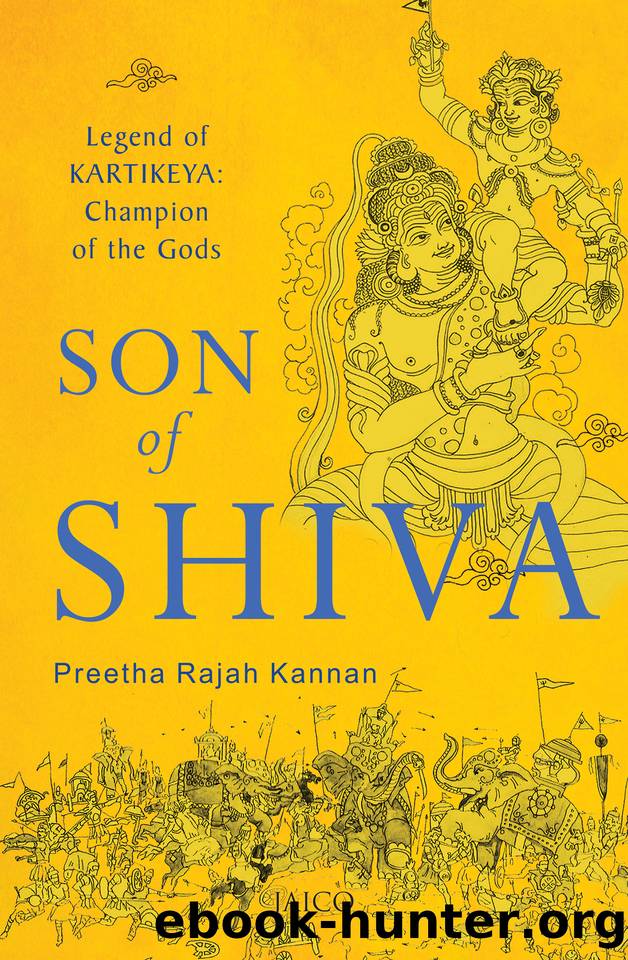 Author:Kannan, Preetha Rajah [Kannan, Preetha Rajah]
Language: eng
Format: epub
Publisher: Jaico Publishing House
Published: 2017-05-17T16:00:00+00:00



23
Kartikeya's Leelas
Never before had the cosmos beheld such a child! With his exquisite features and broad shoulders, exuding valour, strength and the radiance of Agni and Surya, he was Muruga: the epitome of male beauty. Mother Earth cradled the infant in her lap as Sage Vishwamitra performed the Jatakarma rites for the newborn and named him Guha: the secret-born, who took birth in the solitude of the forest of reeds. In his turn, the baby raised his hands in blessing over the sage, bestowing on him the totality of Vedic knowledge and granting him the title of Brahmarishi.
Through Goddess Sarasvati's grace, the Dhanurveda assumed tangible form and showered the infant with astras and shastras, making the child immune to defeat – a mahayogabalanvitah , he of great might. With dance and song, Vedic chants and paeans of praise, the relieved devas welcomed the birth of their champion and lavished on him gifts of flowers, fruits, exotic toys, animals, birds and the treasures of the earth and oceans.
The six infants grew miraculously, endued with great energy, and were up and about six days after their birth.
Download


Copyright Disclaimer:
This site does not store any files on its server. We only index and link to content provided by other sites. Please contact the content providers to delete copyright contents if any and email us, we'll remove relevant links or contents immediately.