I Funny: School of Laughs by James Patterson & Jomike Tejido
Author:James Patterson & Jomike Tejido [Patterson, James & Tejido, Jomike] , Date: August 2, 2020 ,Views: 13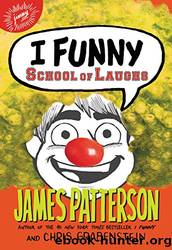 Author:James Patterson & Jomike Tejido [Patterson, James & Tejido, Jomike]
Language: eng
Format: epub
Tags: Juvenile Fiction / Humorous Stories, Juvenile Fiction / Social Issues / Special Needs, Juvenile Fiction / Family / Alternative Family, Juvenile Fiction / Social Issues / Self-Esteem & Self-Reliance
ISBN: 1784754021
Amazon: B01K3WN5TW
Publisher: jimmy patterson
Published: 2017-04-03T00:00:00+00:00



Chapter 31
FIRST-CLASS TREATMENT?
Monday morning at the middle school, almost the entire student body signs up for my first How to Do Stand-Up class.
Everybody had so much fun watching the show that they want to be in the next show! Gilda and Ms. Denning are taking names at a table they've set up in the hallway outside the library.
"Join us right after school," announces Gilda during the shuffle between first and second periods. "A special library-only class taught by the Planet's Funniest Kid Comic and star of the hit TV series Jamie Funnie, Jamie Grimm himself!"
"This is going to be so awesome!" I hear one kid say as she writes her name on Ms. Denning's yellow legal pad.
"I want my own TV show, too!" says another.
"I was born to be funny," says a third. "And make money from it!"
"Sign on up!" says Gilda, in full carnival-barker mode. "Learn how to do stand-up!"
"Maybe I should take this class," I joke to Gilda. "I'd love to learn how to stand up again."
She laughs it off, but I'm sweating bullets. It's what I always do when the pressure is on. Which it is.
Constantly.
For me, life is one giant pressure cooker with the lid locked down tight.
I perspire my way through the rest of the day. I feel sorry for everybody who has to sit behind me. I would also like to publicly apologize to Gus, the janitor.
Download


Copyright Disclaimer:
This site does not store any files on its server. We only index and link to content provided by other sites. Please contact the content providers to delete copyright contents if any and email us, we'll remove relevant links or contents immediately.