Facebook For Dummies, Mini Edition by Pearlman Leah
Author:Pearlman, Leah , Date: March 2, 2020 ,Views: 192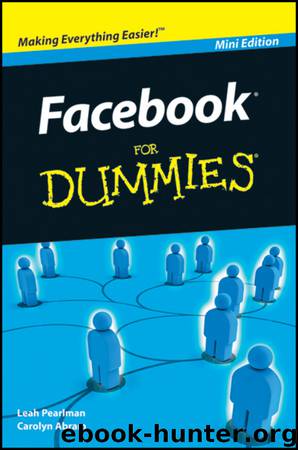 Author:Pearlman, Leah
Language: eng
Format: epub
Publisher: Wiley
Published: 2011-08-02T16:00:00+00:00



Figure 3-2: Coworker search.
You can also just type a name in the search box located at the top of the Facebook screen. The search offers a list of results that might match you up with the person you've been trying to locate.
Creating Friend Lists
Friend Lists are a way of organizing your friends into lists to make your Facebook experience even easier and more personalized. Organizing your friends into Friend Lists can allow you to
Share different types of information with different sets of friends.
Show yourself as online or offline to different groups of people in Chat.
Communicate with the same groups of people in the Inbox.
To create a Friend List:
1. Go to the Friends page by clicking Friends in the left-hand menu of the home page.
This brings you to the Friends page, which usually shows you friends that have recently updated their profiles.
2. Click the Manage Friend List button in the upper-right corner
3. Click the Create a List button at the top of the screen.
4. In the window that opens, name your list.
5. Select friends who belong on this list by clicking their names or faces.
6. Click Create List.
Now, wherever Friend Lists appear on Facebook, including where you set privacy, Chat, the Inbox, and the Friends page, you have access to the new list you just created. It also appears on the left side of the Edit Friends page.
You can edit the name or membership of a list by selecting the list name from the left-hand menu of the Friends page.
Discovering the Facebook Friend Philosophy
You might hear different reports on the rules for Facebook. You might hear that it's rude to ignore a friend request. Pay no attention to these ugly rumors. The truth about Facebook Friend etiquette is here.
Choose your friends wisely
Generally, you send friend requests to and confirm friend requests only from people you actually know. If you don't know them — random friend requests — click Ignore. Don't declare friendship unless some kind of relationship actually exists. Remember the lecture you got about choosing good friends when you were in high school? It's every bit as true now.
It's quality, not quantity
Another common misperception about Facebook is that it's all about the race to get the most friends. This is very, very wrong. Between the News Feed and privacy implications of friendship, aim to keep your Friend List to the people you actually care about. Now, the number of people you care about — including the people you care about the most and those you care about least — might be large or small. The average number of friends that a person has on Facebook is around 120. Does a person with 120 friends care about them all equally? Probably not. Does this mean that person is shallow? No. It means that this person is keeping up with and keeping track of all the friends that have come and gone through a lifetime. Changing jobs, schools, and locations also comes with new friends, but that doesn't displace the fact that you care about the old ones.
Download


Copyright Disclaimer:
This site does not store any files on its server. We only index and link to content provided by other sites. Please contact the content providers to delete copyright contents if any and email us, we'll remove relevant links or contents immediately.