Divine by Blood by PC Cast
Author:PC Cast , Date: September 18, 2022 ,Views: 43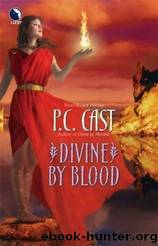 Author:PC Cast
Language: eng
Format: mobi
Tags: Horror & Ghost Stories
Published: 2010-05-21T02:57:54.194000+00:00



Morrigan decided that the glass and a half of wine on an empty stomach might not have been that bad of an idea. At least it al owed her not to be so uptight about three women bathing her. Actual y it was kinda fun—more like a slumber party (except that she was naked and up to her chin in hot, soapy water) than a preritual anointing.
"Is the Keep of Oklahoma much different than our Realm, my Lady?" Deidre asked as she scrubbed one of Morrigan's arms.
"Oh yeah, lots different," Morrigan said, and then added before she real y realized what she was saying, "I never felt like I belonged there."
"That is because you belong here, my Lady," Raelin said with a bright smile.
"I think you might be right about that." She turned, tilted her head back, and while they rinsed the excel ent-smel ing shampoo from her hair, Morrigan continued. "Even though I haven't been here very long it's like something inside of me has unwound and relaxed for the first time in my life."
"I cannot imagine the pain it would cause to be separated from Adsagsona," Birkita said. The other women nodded in solemn agreement.
"At least I understand it now. Before, I thought I was the weird one. I was constantly tel ing myself that it was my fault I felt like that because I wasn't trying hard enough to be like everyone else."
"Oh, no, my Lady!" Deidre said, near tears. "It was separation from your goddess that made you feel that you were an outlander."
"You wil never feel so again," Birkita said, squeezing her bare, wet shoulder.
"You know, I was nervous about the ritual. But I'm real y starting to look forward to it." Actual y, as the women toweled her vigorously dry and began rubbing sweet, almond-scented oil into her skin, Morrigan realized she was feeling almost giddy with excitement. She was getting ready to hear the voice of her goddess!
Wrapped in a thick towel, Morrigan, accompanied by the three women, went to her room. Spread out on her pal et was a weird-looking piece of clothing made of a material that shimmered silver white in the light of the selenite stalactites. Morrigan stroked the beautiful cloth.
"Wow, it's like silk, but it's real y leather."
"It is the finest of kidskin, softened by the hands of Adsagsona's priestesses, dyed and embroidered with the finest diamonds by a High Priestess who went to spend her eternity with the Goddess decades ago. I wore it for my first Dark Moon Ritual nearly fifty years ago." Birkita's smile was wistful. "Would that I was supple and young enough to wear it again."
Morrigan studied Birkita's petite form. Just like G-ma, she thought, barely over a hundred pounds soaking wet. "Oh, please! You could stil wear this."
The older woman's cheeks warmed to a blushing pink, but she smiled. "It is time for a new High Priestess. I wish you many years of joy wearing it." She motioned for Deidre and Raelin to help her, and together the three women began wrapping the supple leather around Morrigan's body.
Download


Copyright Disclaimer:
This site does not store any files on its server. We only index and link to content provided by other sites. Please contact the content providers to delete copyright contents if any and email us, we'll remove relevant links or contents immediately.