Cloak and Dagger (TheStar Elite's Highwaymen Investigation Book 1) by Rebecca King
Author:Rebecca King [King, Rebecca] , Date: May 7, 2021 ,Views: 39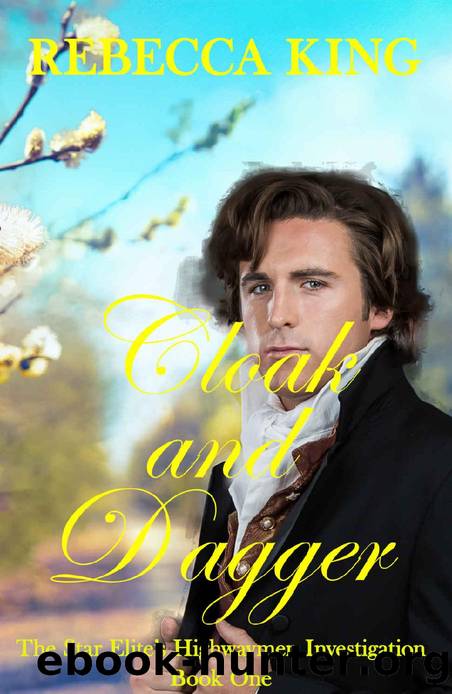 Author:Rebecca King [King, Rebecca]
Language: eng
Format: epub, azw3
Published: 2020-03-15T18:00:00+00:00



CHAPTER NINE
Phoebe watched Duncan disappear out of the end of the driveway and prayed that he would be safe.
'I didn't think he was going to make it,' Frederick murmured from behind her.
'Do you think he will be back?' Phoebe asked, hating just how uncertain her voice was.
Frederick looked knowingly at her. 'I think that you might have been better asking that question before you allowed him to get too close, don't you?'
Phoebe's cheeks turned rosy, but she didn't apologise for what she had allowed.
'I know he is a handsome man, and the first one to show you any interest in a long time. Since your accident as a matter of fact. However, Duncan is still a stranger. You know nothing about him. You have no idea if he does work for the Star Elite, yet you allowed him close. Do you really think that is that wise?'
'He was showing me his scars,' Phoebe replied. 'He was shot. He had marks all down his side.'
'So you needed to hold him upright, did you?' Frederick softened his scolding with a wry smile. 'I am not saying that it is wrong for you to get to know him. Just make sure that he is who he says he is before you allow him to hurt you. He might not come back, have you thought about that?'
'Then I know he cannot be trusted before I have allowed anything else to happen, don't I?' Phoebe replied with a somewhat defiant glare. 'I am not such a wayward harlot that I am prepared to allow just any man close. I have spent the last couple of years in isolation. While I have had to recover, I see no reason why I should not enjoy life. Duncan has made me feel like a person, not just someone who is injured, or sadly lacking somehow, or someone who should be pitied for being weaker, but instead someone who is attractive.' Phoebe stopped when her voice broke. 'I don't understand why Duncan is the one who attracts me. He is the very last person who can provide me with any stability, even if he works for the Star Elite. He is the very last person I should even look at as anything more than Sir Hugo's colleague.'
'Yet you are attracted to him. There is nothing wrong with that. He isn't much older than you, and is well spoken, has good manners, and has worked to protect you and this house. However, you know little about him as a man. Do you know if he has a family? Where he lives? How old he is?'
'I know he has a family in Gloucestershire. I think they are wealthy because he mentioned having staff. He was bored of his life of wealth and social climbing and decided to do something different and more challenging. He got embroiled with one of Sir Hugo's investigations, I don't know how and he didn't go into details but he then decided to join the Star Elite. It was during one of his investigations that he got injured.
Download


Copyright Disclaimer:
This site does not store any files on its server. We only index and link to content provided by other sites. Please contact the content providers to delete copyright contents if any and email us, we'll remove relevant links or contents immediately.