Classic German Baking by Weiss Luisa
Author:Weiss, Luisa [Weiss, Luisa] , Date: March 14, 2020 ,Views: 97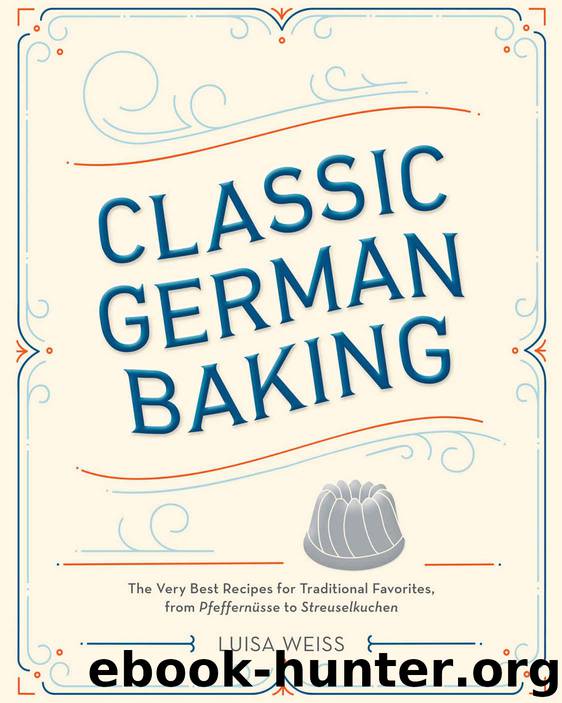 Author:Weiss, Luisa [Weiss, Luisa]
Language: eng
Format: azw3, epub
Publisher: Potter/Ten Speed/Harmony/Rodale
Published: 2016-10-17T16:00:00+00:00



* * *
PFLAUMENSTRUDEL
Plum Strudel
MAKES 1 (23-INCH-/58CM-LONG) STRUDEL
Strudel, like many other delicious recipes in the German baking canon, actually comes from Austria and is one of those recipes that most people think of with awe, reverence, and trepidation—at least I always did. I grew up thinking Strudel was like Mount Everest, to be attempted only by the professionals or the Viennese. My parents, who are good cooks but not bakers, instilled this in me by speaking of their friend Christine's Strudel (she's Viennese) or our friend Joanie's Strudel in hushed, reverent tones. These Strudel were legendary. Complicated. Difficult. And these Strudel were certainly not to be attempted by the clumsy likes of us.
But when I actually tried my hand at Strudel making, I discovered that Strudel, like so many mythological baking mountains, isn't that difficult after all! In fact, it's so much simpler than you (or my parents) might think. The only thing it requires is a little bit of self-confidence when working with the dough—well, that and a lot of guests, because a true Austrian fruit Strudel, 2½ pounds/1.1kg of fruit wrapped in a dough made with just a scant 1¼ cups/150g of flour, is quite colossal.
Strudel dough is deceptively simple. There's not much in it: only flour, water, salt, and some oil. But the long kneading makes it very supple and elastic. It's wondrous stuff. Self-confidence comes in handy when you have to stretch the dough out to a large, gossamer rectangle. You may think that this tiny little ball of dough will never stretch that far, but it will. Just go slowly and with patience and confidence, and you'll find that the dough will do just what you ask of it. You'll also need a bit moxie when rolling the Strudel up and around its generous filling. You will think the dough will tear or rip, but it won't. Just trust yourself and the dough (and, if needed, have a friend help you) as you follow the instructions in this recipe.
Here Italian prune plums are paired with a mix of ground almonds and toasted, buttered bread crumbs, both of which soak up the fruit juices generated by the baking process so that the Strudel doesn't drown or get soggy. This recipe uses Vanillezucker (vanilla sugar) instead of vanilla extract in the filling. You may flinch at the amount of butter called for to baste the Strudel, but please try to resist. The butter is essential for getting the very simple Strudel dough to turn crisp and flaky in the heat of the oven. A dollop of Schlagsahne (lightly sweetened whipped cream) served alongside is practically mandatory.
Download


Copyright Disclaimer:
This site does not store any files on its server. We only index and link to content provided by other sites. Please contact the content providers to delete copyright contents if any and email us, we'll remove relevant links or contents immediately.