Angry Like Jesus: Using His Example to Spark Your Moral Courage by Sarah Sumner
Author:Sarah Sumner , Date: November 26, 2021 ,Views: 64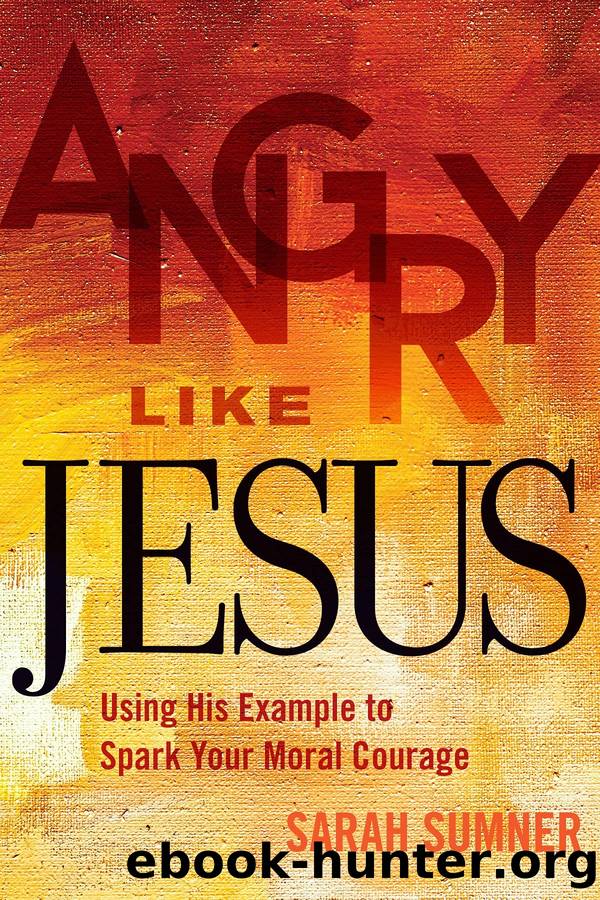 Author:Sarah Sumner
Language: eng
Format: mobi
ISBN: 9781506401850
Publisher: Fortress Press
Published: 2015-11-01T21:00:00+00:00



My purpose in this chapter is to showcase the healing power of Jesus' anger, which flows to those who come to him in faith. What the following stories show is that the tiniest drop of faith—that is, the tiniest honest impulse to be truthful about God—makes all the difference with regard to pleasing Jesus. Those who are openly willing to submit to God's holy love experience Jesus' anger as a gift. But those who harden their hearts and doubt the living God encounter Jesus' anger in the form of censuring judgment that spotlights their unwillingness to repent.
Story 12: Jesus Rebuked a Demon in a Boy
Who can understand the mysterious interplay between sickness and demonic activity? I am not an expert on mental illness. But as a theologian, I believe Jesus' faith gave him miraculous healing power to exorcise a demon from a demon-possessed boy who was mentally ill. Let's review Matthew's version of the story:
And when they came to the multitude, a man came up to Him, falling on his knees before Him, saying, "Lord, have mercy on my son, for he is a lunatic, and is very ill; for he often falls into the fire, and often into the water. And I brought him to Your disciples, and they could not cure him." And Jesus answered and said, "O, unbelieving and perverted generation! How long shall I be with you? How long shall I put up with you? Bring him here to Me." And Jesus rebuked him, and the demon came out of him, and the boy was cured at once. Then the disciples came to Jesus privately and said, "Why could we not cast it out?" And He said to them, "Because of the littleness of your faith; for truly I say to you, if you have faith as a mustard seed, you shall say to this mountain, 'Move from here to there,' and it shall move; and nothing shall be impossible for you. But this kind does not go out except by prayer and fasting." (Matthew 17:14-21, NASB)
Jesus didn't suffer from littleness of faith. By faith, he rebuked this stubborn demon. By faith, Jesus prevailed. Faith fueled Jesus with courageous, loving anger that energized him and authorized him to drive this demon out. Jesus had faith at least four times over: he had the faith to pray, the faith to fast, the faith to have sinless anger, and the faith to use that anger to expel an extra-stubborn dark force.
Jesus' words to his disciples were faultfinding: "O unbelieving and perverted generation!" He didn't pad his honest thoughts with charming rhetoric. "How long shall I put up with you?" he said.
Was Jesus angry at his disciples for failing to cast out that demon? I don't know, but clearly he was not pleased. Yet Jesus loved them well in his displeasure. In my mind, Jesus' statement "How long should I put up with you?" reeks of exasperation. Still, Jesus served his followers nonetheless. Rather than resenting them or cynically giving up on them, he gave to them sacrificially.
Download


Copyright Disclaimer:
This site does not store any files on its server. We only index and link to content provided by other sites. Please contact the content providers to delete copyright contents if any and email us, we'll remove relevant links or contents immediately.