A Practical Guide to Appellate Advocacy by Mary Beth Beazley
Author:Mary Beth Beazley , Date: November 25, 2021 ,Views: 47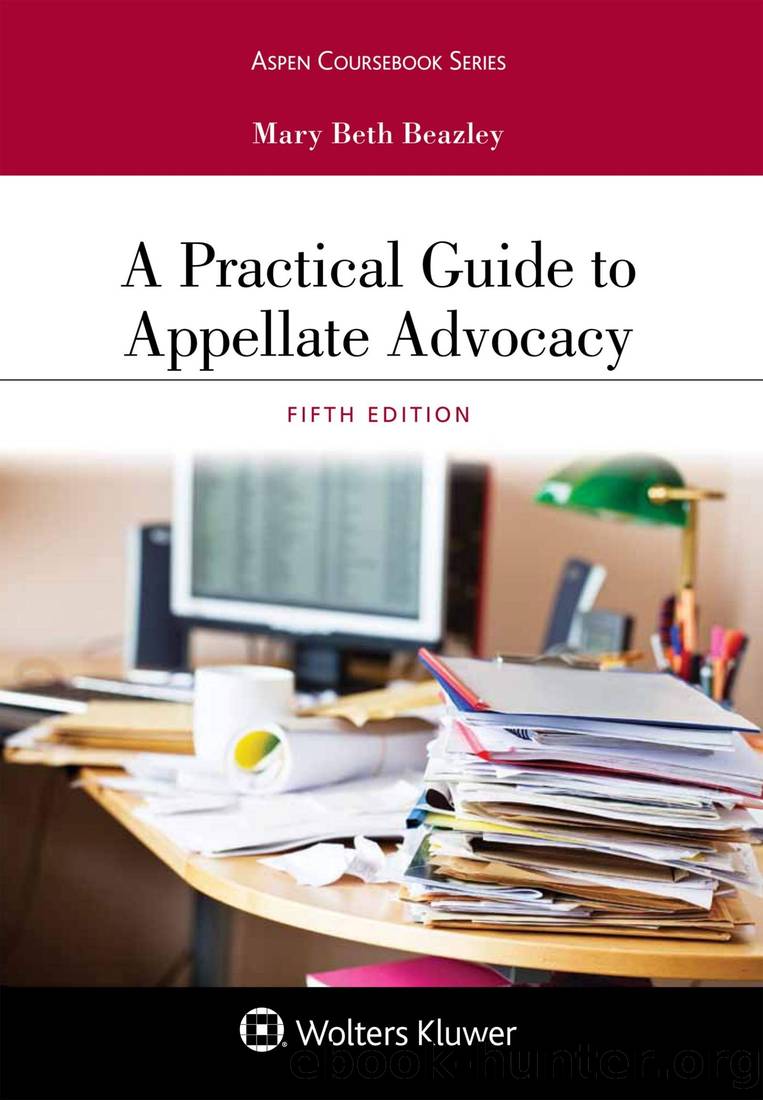 Author:Mary Beth Beazley
Language: eng
Format: mobi
Tags: Law, Legal Education, Legal Writing
ISBN: 9781454896340
Publisher: Wolters Kluwer Law & Business
Published: 2018-09-13T21:00:00+00:00



7.7
SUMMARY
This chapter provides a brief glance at the many possibilities for statutory interpretation arguments. The most important thing you can do to make these arguments effectively is to read and understand the statute at issue. That knowledge will allow you to find available arguments, and to recognize both intrinsic and extrinsic authorities that can advance your client's case.
Chapter Seven Review
1. With a new fact pattern, be sure to do statutory research.
2. Start with plain language.
3. Read the rest of the statute, the rest of the chapter, and the rest of the title (or at least its table of contents).
4. The more straightforward your analysis is, the more likely the court will be to agree with it.
5. Courts like consistency: It's good to argue that a word should mean the same thing throughout a statute, and that a phrase should mean the same thing in two similar statutes.
6. Use legislative history as further support, not sole support.
7. Both changed language and lack of changed language can be significant.
8. Don't reinvent the wheel: Use your statute number as a search term, and look for cases and law review articles that have analyzed its language and legislative history.
9. Be able to translate Latin phrases, and to research canon arguments using language other than the formal name of the canon.
10. Remember the lessons of the abstraction ladder: Unless you are making an in pari materia argument, you don't need to look for cases in which courts were interpreting identical statutes. Pay attention to the legally significant categories. What statutory problem was that court solving?
1 E.g., William Eskridge Jr. et al., Cases and Materials on Legislation and Regulation: Statutes and the Creation of Public Policy (5th ed. West 2014); Antonin Scalia & Bryan A. Garner, Reading Law: The Interpretation of Legal Texts (2012).
2 Frank H. Easterbrook, The Absence of Method in Statutory Interpretation, 84 U. Chi. L. Rev. 81, 83 (2017) ("I am skeptical of canons, and not simply because of Professor Karl Llewellyn's famous list of canons and countercanons") (citing Karl N. Llewellyn, Remarks on the Theory of Appellate Decision and the Rules or Canons About How Statutes Are to Be Construed, 3 Vand. L. Rev. 395, 401-06 (1950).
3 Easterbrook, supra note X, at 83.
4Anita S. Krishnakumar, Dueling Canons, 65 Duke L.J. 909, 1006 (2016).
5James J. Brudney & Corey Ditslear, Canons of Construction and the Elusive Quest for Neutral Reasoning, 58 Vand. L. Rev. 1, 4 (2005)
6See Easterbrook, supra note X, at 82.
7E.g., Pereira v. Sessions, No. 17-459, 2018 WL 3058276, at *8 (U.S. June 21, 2018) (noting that "it is a normal rule of statutory construction that identical words used in different parts of the same act are intended to have the same
meaning") (citation and internal quotation marks omitted); Food & Water Watch, Inc. v. United States Envtl. Prot. Agency, 302 F. Supp. 3d 1058 (N.D. Cal. 2018) (noting the "general principle of statutory construction that when Congress includes particular language in one section of a statute but omits it in another section
Download


Copyright Disclaimer:
This site does not store any files on its server. We only index and link to content provided by other sites. Please contact the content providers to delete copyright contents if any and email us, we'll remove relevant links or contents immediately.