War Play by Corey Mead
Author:Corey Mead , Date: April 14, 2014 ,Views: 648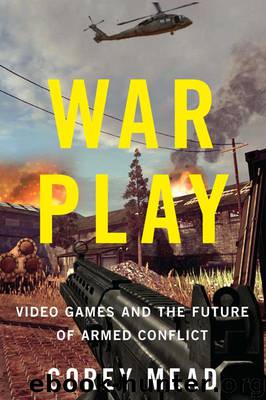 Author:Corey Mead
Language: eng
Format: epub
Publisher: Houghton Mifflin Harcourt



More Than a Game
To find out how VBS2 training works in practice, I paid a visit to Fort Campbell, Kentucky, home of the 101st Airborne Division Screaming Eagles—and, since early 2011, site of the Kinnard Battle Command Center's cutting-edge Virtual Training Facility (VTF). Located on Air Assault Street, the VTF's plain brick exterior gives little hint of the technological focus inside. Enter the building, however, and you find a windowless classroom containing rows of tables lined with computers—enough to fit a company-sized group of one hundred soldiers at a time. Across the hallway sits the Tactical Operations Center, smaller than the classroom but similarly filled with computers, a digital projection system, and a sound system. From here commanders and administrators, unseen by the trainees, manage the training occurring in the classroom, adding a Truman Show–like element to the proceedings. Built for the meager sum (in military terms) of $750,000, the VTF is where soldiers from the 101st spend up to a week training on VBS2 before deploying to Afghanistan.
At the VTF I met with virtual team chief Adam Williams—an ex-Marine, Williams works for the defense contractor SAIC—and Jeff "Beast" Jackson, a gregarious, heavily muscled former drill sergeant with a quick wit and a deep, occasionally impenetrable southern accent. Both men exhibit a combination of seriousness and playfulness that befits their roles as military trainers who work with video games.
Depending on the commander's wishes, some units train on VBS2 until the day they deploy overseas, while others do it earlier in the training cycle. (Some units even take VBS2 along on their deployments.) Before a given session at the VTF, the company's commanders meet in the Tactical Operations Center with Williams and his technicians. The leaders tell Williams exactly what they want the day's training to focus on and the specific location in Afghanistan or Iraq where it should be set. Most commanders want to focus on conducting convoy and dismounted operations, including small-arms fire, experiencing near and far ambushes, requesting casualty and medical evacuations, reacting to IED attacks, and requesting bomb-disposal teams. Some units pay Afghan interpreters to join the training sessions as role players. By the time Jackson has finished describing how to use the keyboard, Williams and his team have pulled up the proper scenario (or scenarios) on VBS2.
If a scenario or setup is particularly innovative, Williams also posts it on the Army Training Network, an online tool for army instructors. "The best part," he says, "is that you get to network out. Hey, what's Fort Lewis doing? What's Fort Drum doing? Each site is focusing on different things, so that really helps us grow. I'll ask Fort Bragg, how are you using VBS2? What's worked for you? Do you have any scenarios that I can share?"
When a company of soldiers sit down at their computers for their training session, Jackson starts with a lesson in keyboard functionality, showing them how to operate their avatars. "A lot of times, soldiers don't understand how to put their fingers on the keyboard and type and things like that," he explains.
Download


Copyright Disclaimer:
This site does not store any files on its server. We only index and link to content provided by other sites. Please contact the content providers to delete copyright contents if any and email us, we'll remove relevant links or contents immediately.