The Radical Right by Klaus Wahl
Author:Klaus Wahl , Date: September 23, 2022 ,Views: 46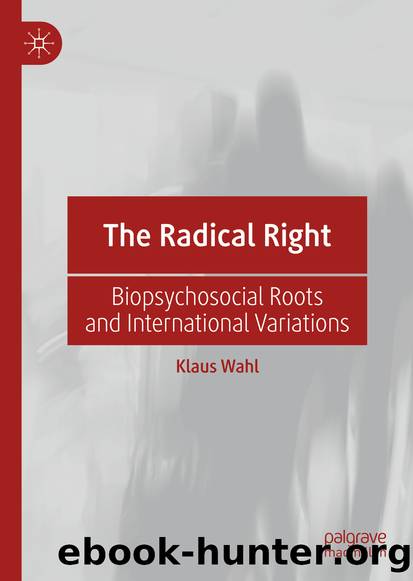 Author:Klaus Wahl
Language: eng
Format: epub
ISBN: 9783030251314
Publisher: Springer International Publishing



The radical right in France is mainly represented by the National Front (Front National, FN, since 2018 Rassemblement National, National Rally). Its former founder Jean-Marie Le Pen had first electoral success in the 1980s. His daughter, Marine Le Pen, followed him in 2011 as head of the party and continued a process of "dédiabolisation", that is, she moderated its ideology from extreme right to populist right stances in order to raise its ability to govern. Some observers, however, criticize that the party only changed the vocabulary without changing the basic ideology. The FN succeeded in enlarging its electorate to include more women, workers, the petite bourgeoisie, and young people. The party fights against immigration, Islam, and the Euro. Immigrants are blamed for social problems like unemployment and crime and as a threat to a French ethnonational identity. At the end of the 2000s the conservative Nicolas Sarkozy's Union for a Popular Movement's (Union pour un mouvement populaire, UMP; since 2016 Les Républicains, The Republicans) strategy of attracting voters of the right by ideas on law and order, immigration, and multicultural society was temporally successful, but reversed fortunes only a couple of years later (Almeida, 2013; Camus, 2011; Carroll, 2014). Already in the regional elections of 2010, the Front National was strongly back, gaining even more ground back from the conservatives in the next national elections in 2012. In 2017, Marine Le Pen received 21.3 percent of the votes in the presidential election (first round), competing with the pro-European liberal Emmanuel Macron, later president, and she got a respectable 33.9 percent of the vote in the second round. With 13.2 percent of the votes at the national elections of 2017, the Front National (now National Rally) could almost keep its results from 2012.
Unlike Germany, France did not have many extreme right groups beyond political parties in the last years. Some of the few cases were the neo-Nazi group FANE (Fédération d'action nationale et européenne), which was dissolved by state authorities and refounded several times. In terms of ideology and tactics, there is Bloc Identitaire, a nativist, Islamophobic movement, calling for public action with international connections to similar movements, and there is also Génération Identitaire, which acts as their youth wing (Camus, 2011; Chowanietz, 2009; Forestier & Weißgerber, 2014).
Download


Copyright Disclaimer:
This site does not store any files on its server. We only index and link to content provided by other sites. Please contact the content providers to delete copyright contents if any and email us, we'll remove relevant links or contents immediately.