The Catcreeper (Rewind or Die Book 13) by Kevin A. Lewis
Author:Kevin A. Lewis [Lewis, Kevin A.] , Date: September 19, 2023 ,Views: 45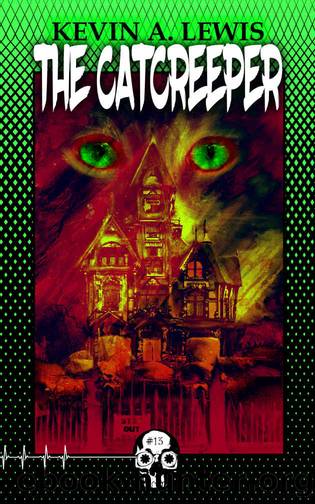 Author:Kevin A. Lewis [Lewis, Kevin A.]
Language: eng
Format: epub
Publisher: Unnerving
Published: 2020-07-23T05:00:00+00:00



When Craig Stearns awoke that morning, he had no idea of the horror he would be in at the end of the day. He turned over, faced his wife of five years, and smiled. Erica and Craig had been high school sweethearts and Craig proposed to Erica the day he graduated college. He had already accepted a position with his father's insurance company, but after a year, he decided to pursue his dream of becoming a cop. His father was disappointed at first, but knew his son, even as a little boy, had wanted to become a cop.
He and Erica wanted to stay in New England. Craig searched all over until the Fallsbury Police department hired him. The job wasn't the greatest, but he still saw it as an opportunity to learn and grow. His ultimate ambition was to become chief of police like his grandfather, Frank Stearns, but that was years down the road.
Erica turned and faced her husband. When she opened her eyes, Craig said, "Hey, there."
Erica smiled. "Good morning."
—
"Do you really have to go to work today?" Erica asked as she stirred the scrambled eggs on the stove.
"I do." Craig took a sip of coffee and continued reading the Fallsbury Gazette. He knew where his wife's question was going. Ever since Erica had found out she was pregnant, she had become almost paranoid. How they were going to raise their child on their income, living in Vermont and away from their families? But her biggest fear was Craig's safety as a police officer. Erica was terrified of something happening to Craig on the job and her having to raise the child alone. It all started last year when Craig and a couple of officers were involved in a violent domestic dispute. They had attempted to calm down the abusive husband on the front lawn, but the man assaulted the police officers, striking Officer Brett Hartley in the back with a bat. While Hartley ended up recovering, the incident frightened Erica for her own husband's safety. Craig constantly reassured her that he'd be fine, but it never eased her worry.
"Honey, why don't you call in? We're in the middle of a blizzard."
"Hence the reason I have to go to work. If this blizzard intensifies, which the meteorologist is predicting, it'll be all hands on deck for a while."
"A blizzard before our baby is born? I don't like this."
Craig took another sip of coffee and set the cup on the table. "I know, sweetheart, but don't worry. I'll be fine. I always am." He looked at his watch and tapped the glass. "Shit, I'd better get going."
"Don't swear. The baby might hear you. And what do you mean you have to go? I just made breakfast."
"I'm sorry, honey. Dale's having a winter prep meeting."
With that said, Craig stood up from the table, kissed his wife goodbye, and left the house on what he thought was going to be a normal day in Fallsbury.
Erica sat at the table and placed her hand on her forehead.
Download


Copyright Disclaimer:
This site does not store any files on its server. We only index and link to content provided by other sites. Please contact the content providers to delete copyright contents if any and email us, we'll remove relevant links or contents immediately.