Fog & Mist_a fairy tale retelling by Kelsie Engen
Author:Kelsie Engen [Engen, Kelsie] , Date: May 14, 2022 ,Views: 32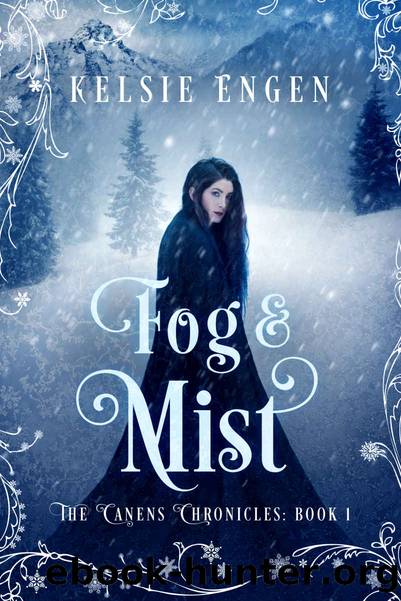 Author:Kelsie Engen [Engen, Kelsie]
Language: eng
Format: epub
Publisher: Litera Scripta Manet
Published: 2019-04-22T22:00:00+00:00



20: BLANCHE
THE SORCERER
I walk down to the dungeons through halls bathed in shadows. The empty halls echo with my footsteps, disturbing no one but a few slaves who pause their midnight cleaning and melt into the shadows as I pass, my simple silk gown rippling as I move.
The guard beyond the dungeon door opens his mouth when I stride in then closes it and falls to his knees. "Majesty. I was told to expect you, but I did not expect you this late."
"The new prisoner," I answer with, "where is he?"
"I will take you, Majesty." He rises but does not lift his head.
Before I can address him, a second guard emerges from the narrow, damp hallway of the dungeon.
"Wha—?" he begins. Eyes going wide, he falls to his knees in a late echo of the first guard. "Majesty."
"You, stay here at the door while I take Her Majesty to visit a prisoner," the first guard barks at the second.
"Yes, Majesty. Yes, sir." The man does not move from his kneeled position as we pass him.
I follow the first guard in his dark, gray-blue guard uniform that nearly makes him invisible in the shadows. The portly man clearly doesn't get much exercise in his job as a prison guard, and his skin is pale as if he's spent far too much time in the dark.
I follow him past small cells with thick doors ajar. This level of the prison is mostly empty, reserved for prisoners with short stays. Instead of stopping, we descend the sloping walk toward a closed door up ahead to the right. Only then does the guard slow.
"He is here, Majesty," the guard says quietly over his shoulder. Not quite meeting my eyes, he withdraws his keys from his belt, where they have been jingling every other step he takes.
He is not portly at all, I realize, but rather a large man of thick muscle. Well fed, but also well muscled. I smile inwardly to think that it is my garden and my growing houses that have kept him so well fed. And perhaps some snitching from the prisoners' plates? I can't begrudge him that for putting up with these people.
"You would like me to open the door, yes, Majesty?"
"Yes." I focus on the thick, wooden door reinforced with metal which separates me from answers.
The door sets me ill at ease. The nearer I come, the more drained I feel. It's not until I stand before it with the guard fumbling for the key that I realize why.
Anti-magical stone. He needs a magically reinforced cell to prevent him from casting magic. I fight back my own shudder.
"Will you go in, or shall I remove him?" the guard asks.
I consider, inspecting the stone that surrounds us. It won't protect against potions, but it will keep him from casting a spell against me.
"I will go in." Even magically powerless, I am hardly defenseless for I carry a knife in my skirt pocket. "I will enter, and you will lock me inside.
Download


Copyright Disclaimer:
This site does not store any files on its server. We only index and link to content provided by other sites. Please contact the content providers to delete copyright contents if any and email us, we'll remove relevant links or contents immediately.