FaCade (Deception series Book 1) by Dukey Ker & Sidebottom D.H
Author:Dukey, Ker & Sidebottom, D.H [Dukey, Ker] , Date: October 16, 2014 ,Views: 631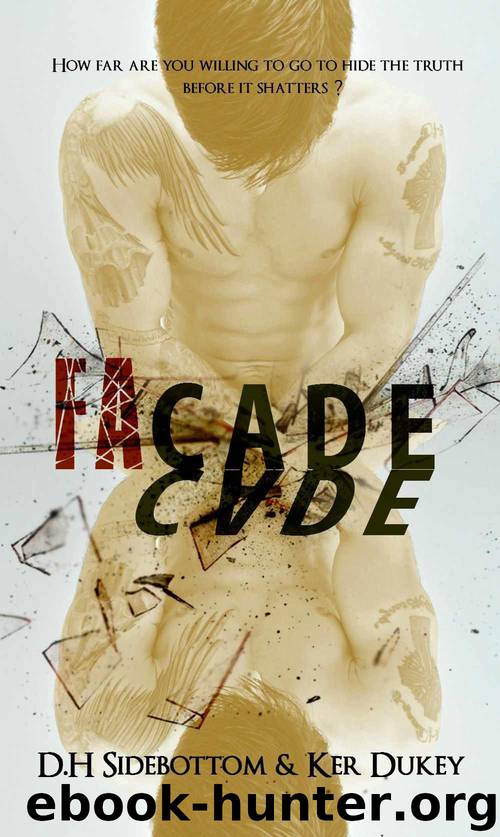 Author:Dukey, Ker & Sidebottom, D.H [Dukey, Ker]
Language: eng
Format: azw3
Tags: novel
Published: 2014-09-28T16:00:00+00:00



SHE WAS STUNNING IN HER euphoria. She had always been driven by her sexual cravings, her body ruling her mind throughout her life. It was why we worked, because she fed my needs and I hers.
I missed her but it was like learning about the girl I fell in love with all those years ago all over again. There was a time when I'm inside her, buried in all the flawlessness, that I wish I could erase my memories and let us both start from scratch, fall in love again but I would never allow that.
After bringing her down from her high, releasing her from the confines, she passed out in my arms, sexually sated and weak.
Making my way to my office, my steps faltered when I saw Malik in there. His eyes were transfixed on the monitor to which the silk room was displayed through the camera hidden in the mirror.
"Malik!" I barked, making him jump.
"Shit, you scared me."
Clearly, the prick!
"What the fuck are you doing in here, watching that room?"
He shifted, stalling to answer. I beat down the impending urge to choke him until he answered. "It's my job to monitor the house cameras." He shrugged.
I pinned him with a deadly glare before stalking towards him. Leaning over the desk, I inhaled deeply. "She's mine and your interest isn't going unnoticed. I warn you now. Lose it!"
His eyes widened. Standing, he held his hand up. "Lose what?" he fumbled to say.
I prodded my finger in his chest. "Any temptation to watch us, to butt your nose in to business not concerning you. I won't warn you again. You forget your place. Now get the fuck out my office."
Dropping his eyes to the floor, he dragged himself from my office. The cunt needed to find a woman to get off on. I snatched up my cell and dialed Hunter's number. He could come to dinner, bring a few dinner guests, one to milk Malik's cock for him. It would be good for Star to see that my friends knew where she belonged and that she should accept her place with me instead of acting like a brat.
Download


Copyright Disclaimer:
This site does not store any files on its server. We only index and link to content provided by other sites. Please contact the content providers to delete copyright contents if any and email us, we'll remove relevant links or contents immediately.