Big Deal by Kevin Winkler
Author:Kevin Winkler [Winkler, Kevin] , Date: August 9, 2020 ,Views: 160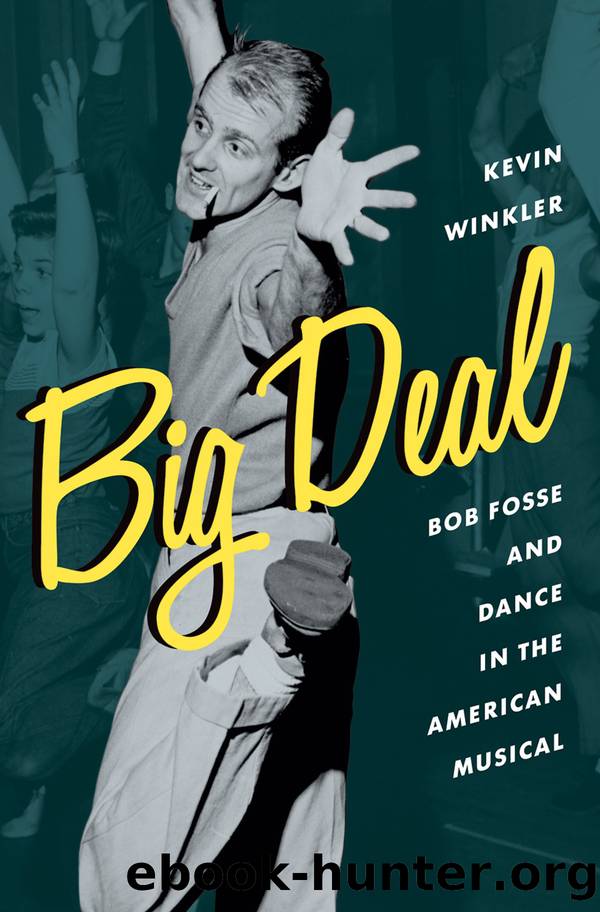 Author:Kevin Winkler [Winkler, Kevin]
Language: eng
Format: epub
Publisher: Oxford University Press
Published: 2018-05-15T00:00:00+00:00



Pippin's Players first appear out of darkness as disembodied hands under the direction of Ben Vereen. Photo by Martha Swope © Billy Rose Theatre Division, The New York Public Library for the Performing Arts.
Fosse's direction to the Players for their entrance was to "make love to the audience,"23 recalled Gene Foote, and from their first appearance they make it clear that the magic they do will include an erotic element. "Magic to Do" establishes the pelvic thrust as Pippin's foundational choreographic movement, to be presented in every possible variation—back to front, side to side, slow grind, or rapid fire pulses—and in a mix of styles, from vintage burlesque to contemporary frug. Pippin inaugurated a new phase in Fosse's choreography, highlighted by a slower, more erotic style of movement. As Foote noted, "Bob said, 'When you move, I want you to move as though you're moving against water.' It does something to your body … . it's sexy to resist movement."24 The undulating performers in costumes of indeterminate period bring a disconcerting quality to their welcome. They seldom move in unison but instead maintain a loose, improvisational style.
"Magic to Do" is driven by the Leading Player, who stands apart in both dress and demeanor. His entirely black ensemble of tuxedo pants, jacket, vest, and ruffled shirt, with only the whites of his spats breaking the palette, looks like a costume Sammy Davis Jr. might wear on a Las Vegas stage, and mimics Fosse's by-now standard all-black personal attire. He is the only Player who does not wear a mask, facial paint, or headdress, and he always occupies center stage. During an instrumental break, as the Players cross the stage, welcoming the audience and attempting to draw comments and reactions from them, Fosse introduces an element of danger, one that indicates the evening will not be all mischievous playacting. Gene Foote remembered, "Bob told me on the third step to throw my head back and laugh hysterically out of nowhere, and then go right back to my talking … . and we scared that audience to death."25 Soon the stage erupts with sinister laughter as the Players mime magic tricks and circus stunts before the Leading Player pulls them back to center for a final group bow, concluding an opening number that marks Pippin as a musical by turns insinuating, erotic, and menacing.
The role of the Leading Player was increasingly utilized to introduce new scenes and offer sardonic asides, frequently using contemporary black slang and slogans. This shifts the focus from Pippin to the telling of his story by the Players, emphasizing the episodic nature of the script and the performative aspect of the show. Ben Vereen's performance conjured up an entire gallery of characters both ingratiating and vaguely threatening, including the Emcee in Cabaret, Porgy and Bess's Sportin' Life, the Devil from Damn Yankees, and Cab Calloway's "Hi De Ho" bandleader, further underscoring Pippin's show business framework.
Fosse took Pippin out of its medieval setting and turned it into an evening's entertainment performed by the Players for that night's audience.
Download


Copyright Disclaimer:
This site does not store any files on its server. We only index and link to content provided by other sites. Please contact the content providers to delete copyright contents if any and email us, we'll remove relevant links or contents immediately.