A Certain Magical Index vs. Durarara!! by Kazuma Kamachi & Narita Ryohgo
Author:Kazuma Kamachi & Narita Ryohgo [Kamachi, Kazuma & Ryohgo, Narita] , Date: June 24, 2022 ,Views: 35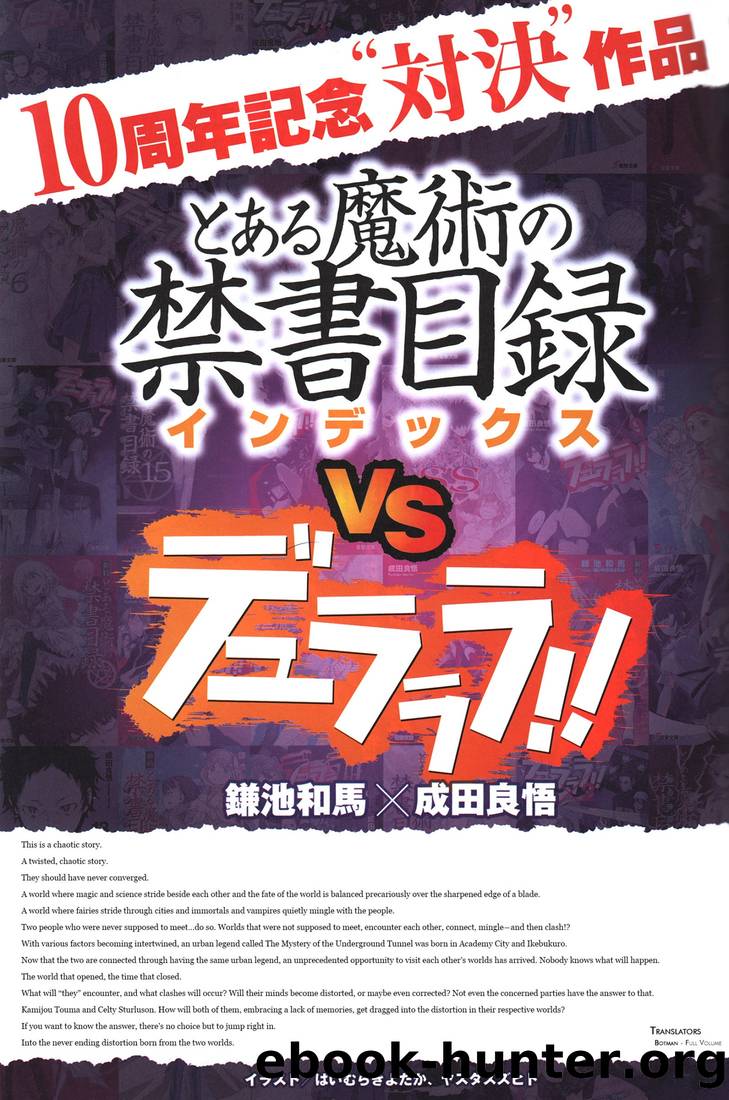 Author:Kazuma Kamachi & Narita Ryohgo [Kamachi, Kazuma & Ryohgo, Narita]
Language: eng
Format: epub
Published: 0101-01-01T00:00:00+00:00



A young woman strongly felt that something was very wrong.
The shape of a certain city on Earth had become completely different from what it had been just a few hours ago.
The person floating weightlessly in space while curled into a ball was a girl who was probably in her late teens.
That alone was anomalous enough for "this world," but the fact that she was wearing a junihitoe made that fact all the more so.
However, for the "world she resides within," what she was wearing wasn't anything too special.
It may be that the only thing that had become abnormal was our benchmark. At least, it was this girl who noticed the abnormality just now.
To her, the Earth, including its seven billion people, was just something to observe.
Whether it was a war on the surface, the disappearance of national borders, or even a nuclear explosion, it was merely someone else's business to her.
For her, who was, in a sense, watching a live documentary while in the luxury of a first-world environment, such a disturbance would not go unnoticed.
Having a unique life rhythm, she woke up a few hours ago and found that the earth had changed significantly between the time she had gone to bed and the time she had woken up.
The only place she had been "connected to" on Earth—Academy City—had disappeared from Japan.
Although the surface of the earth looked like a neat little collage, to make a collage of its scale in real time would require a being on the level of a god, a demon, or someone who had completely surpassed the boundaries of esper powers.
Located in the western part of Tokyo, the isolated circular world of Academy City contained 2.3 million people.
The developed city within that circle had disappeared, replaced with a completely different topography.
After about half a second of her debating whether to try contacting someone in Academy City to judge whether this was some sort of attack or if it was too rash to reveal her location just like that, a communication signal came to her as if it had been deliberately timed.
It had all the right codes and the same patterns as the hidden line she usually used, but the voice was of a man she had never heard from before.
[Hey.]
"Yo."
The girl, named Amano Kaguya, who spoke back in a rude way that was completely contrary to her appearance, did not show any particular worry about the disappearance of an entire city.
"So, who are you?"
[Ah, sorry, I'm Tsukumoya Shinichi. Nice to meet you.]
"That name doesn't show up in either my memory or my records. So, what do you want from me, a person in space who has deliberately abandoned the Earth? Though in this situation, it seems more like I've been abandoned by the Earth."
[To be honest, in your eyes, your situation isn't something to be so pessimistic over, right? You're basically embodying that saying about how if there is a god that throws you away, there is a god that picks you up.]
"Using the word "god" to represent the people of Academy City? I see you really are an outsider.
Download


Copyright Disclaimer:
This site does not store any files on its server. We only index and link to content provided by other sites. Please contact the content providers to delete copyright contents if any and email us, we'll remove relevant links or contents immediately.