Billy Bunter's Double by Frank Richards
Author:Frank Richards [Richards, Frank] , Date: July 12, 2022 ,Views: 7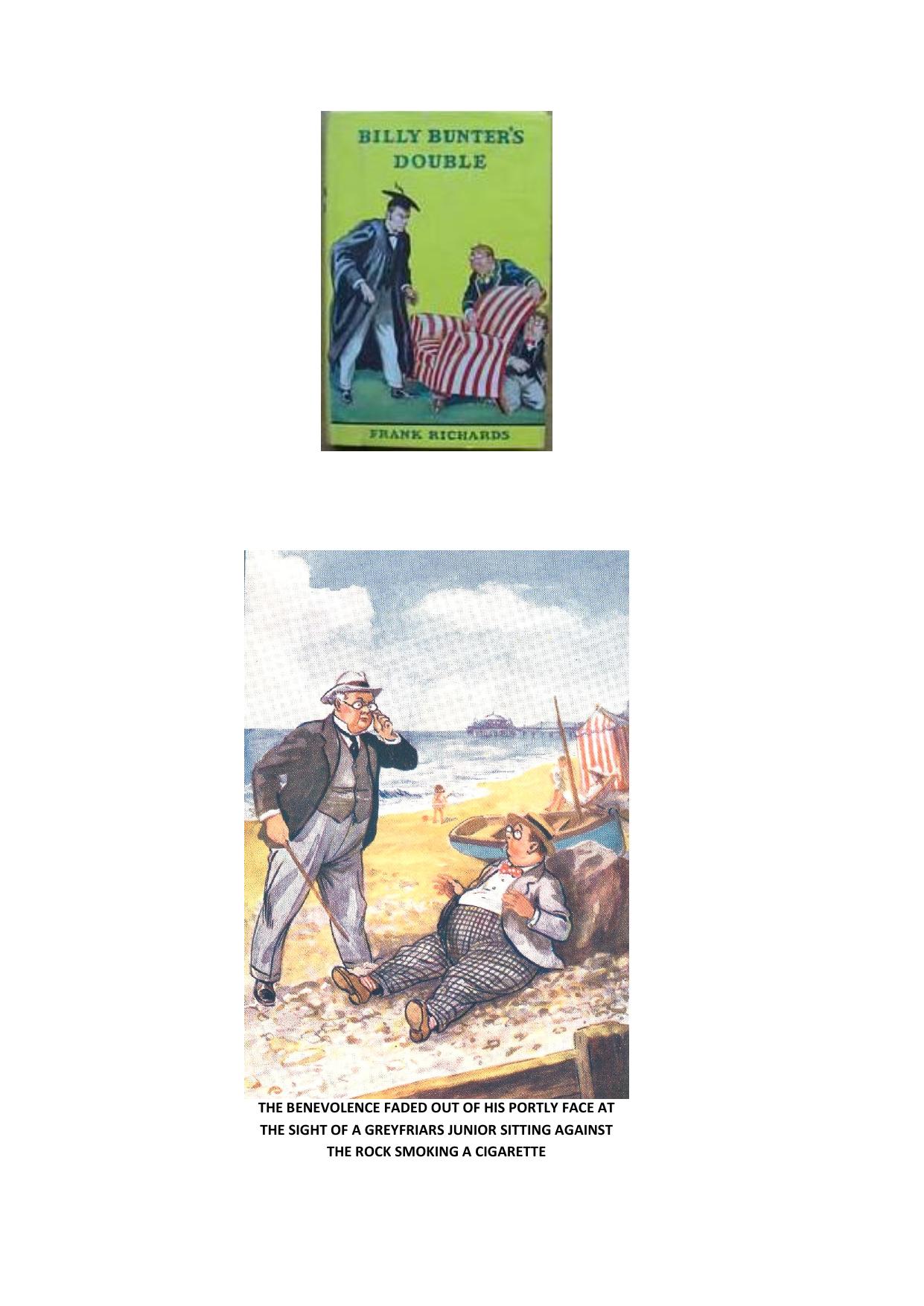 Author:Frank Richards [Richards, Frank]
Language: eng
Format: mobi
Published: 0100-12-31T18:30:00+00:00



THE FIGHT BEHIND THE GYM WAS OVER. THE BOUNDER
WAS COUNTED OUT
Again the Bounder struggled up, but again he fell.
With time to recover, no doubt the hardy Bounder could have gone on. But for the moment he was knocked out, and he could not get on his feet.
"Eight-nine-!"
One more frantic effort the Bounder made, and it failed.
"OUT!"
The fight behind the gym was over. The Bounder was counted out.
CHAPTER 18
BOTH BUNTERS!
"OH!"
Wally jumped.
In fact, he bounded. His eyes popped.
Never had a fellow been so startled and dismayed. Billy Bunter's double was in Billy Bunter's study, No.7 in the Remove. It was after tea. Harry Wharton and Co. had gone down to the nets, and Peter Todd and Tom Dutton, and a good many other Remove fellows, with them. Wally would have gone also: but after that rather strenuous scrap behind the gym, the fat duplicate of the Owl of the Remove was feeling like taking a rest. So there he was, in the window-seat of No. 7 Study, placidly looking down from the window into the sunny quad.
But his placidity vanished all of a sudden, as two figures came in at the distant gates.
Up to that moment, Wally had been as merry and bright as any fellow at Greyfriars: in fact, merrier and brighter than many. He had had some hard knocks in that scrap with Smithy, but they did not seem to worry him unduly. He was enjoying life as a Greyfriars man. The view from the study window, to which most fellows were too accustomed to take much heed of it, delighted a fellow who, when he was not on holiday, generally had an outlook from a small office window into a narrow street shadowed by high buildings. Wally was not a discontented fellow, and he was too plump and placid to think of grousing: but he undoubtedly did enjoy the change to Greyfriars School.
Everything upon which his eyes fell pleased him. Billy Bunter might have given the scene one indifferent blink. Wally looked at it with continued satisfaction.
The old quad, grey old walls, clustering ancient ivy, shady elms: Greyfriars fellows walking and talking: old Gosling sunning himself outside his lodge, Wingate and Gwynne chatting on a bench on the Sixth-form green: a group of Fifth-form men in flannels talking cricket: Cecil Reginald Temple of the Fourth strolling elegantly in the best-cut clothes in the Lower School: Tubb of the Third snatching a cap from the head of Nugent minor of the Second and making off with it. with Dicky Nugent in hot pursuit: even the burly figure of Coker of the Fifth stalking across the quad with the easy grace of a hippopotamus: all that he gazed at from the window of No. 7 pleased eyes that were used to far other scenes. But-.
It all seemed to fall to pieces, as Wally's startled eyes fell on those two figures coming in at the gates.
One was the portly figure of Mr. Prout, the master of the Fifth Form. That was neither startling nor alarming.
Download


Copyright Disclaimer:
This site does not store any files on its server. We only index and link to content provided by other sites. Please contact the content providers to delete copyright contents if any and email us, we'll remove relevant links or contents immediately.