Zoning Rules!: The Economics of Land Use Regulation by William A. Fischel
Author:William A. Fischel [Fischel, William A.] , Date: March 23, 2020 ,Views: 174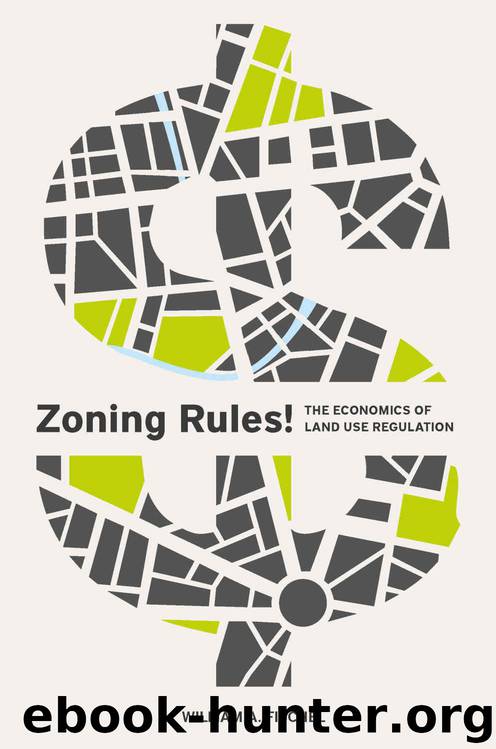 Author:William A. Fischel [Fischel, William A.]
Language: eng
Format: epub
Publisher: Lincoln Institute of Land Policy
Published: 0101-01-01T00:00:00+00:00



5.23 California Freeway Revolts Sunk the Growth Machine
It is not my contention that opposition to freeways was the sole source of the sudden rise in urban environmentalism and opposition to suburban growth in the 1970s. The passage of national environmental legislation in 1970 and its enthusiastic seconding by the judiciary were occasioned by many events. And freeway revolts were just one example of the empowerment of protest groups. The baby boom generation was coming of age and had experienced models of protest from the civil rights movement and opposition to the Vietnam War. Freeway revolts were further manifestations of the same distrust of government authority.
An article in the Journal of Urban History by Louise Dyble (2007) described the process by which Marin County, which lies at the north end of the Golden Gate Bridge from San Francisco, became one of the earliest and most durable examples of growth control in the nation. California highway builders saw the federal 1956 interstate highway program as an opportunity to build new bridges and freeways into the county, whose sole direct road connection with San Francisco was (and still is) the Golden Gate Bridge, built in the 1930s. With the initial and enthusiastic support of a majority of Marin County's elected officials, highway officials proposed several new routes that would improve commuter access to San Francisco and the East Bay and at the same time open up Marin's undeveloped area along the Pacific Ocean to recreational users.
The proposed highways generated unanticipated opposition. After a number of noisy public hearings, state officials backed away from their plans. Professor Dyble did not end the story there, however. After recounting the rout of the highway officials, she went on to describe how the new coalition of anti-highway groups became a permanent force in Marin County politics:
Download


Copyright Disclaimer:
This site does not store any files on its server. We only index and link to content provided by other sites. Please contact the content providers to delete copyright contents if any and email us, we'll remove relevant links or contents immediately.