Wisdom of the Natural World by Granddaughter Crow
Author:Granddaughter Crow , Date: June 11, 2021 ,Views: 46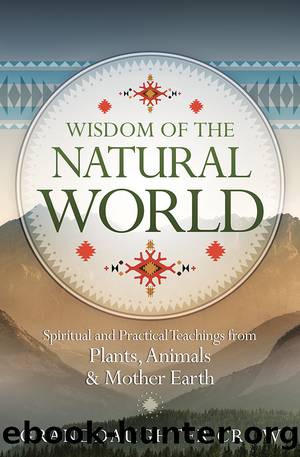 Author:Granddaughter Crow
Language: eng
Format: epub
Tags: CVR05122020;wisdom of the natural world;granddaughter crow;wisdom of nature;nature's wisdom;teachings from nature;wisdom of the earth;earth's wisdom;plants;plant wisdom;animals;animal wisdom;natural world
Publisher: Llewellyn Worldwide, LTD.
Published: 2021-02-11T14:14:12+00:00



Business & Finance
Now we get to apply the natural world's teachings of landscapes within business and finance. It is good to consider that different industries will be more successful in one landscape than another. It is also good to consider that some landscapes may be less conducive to growth. Think about your financial situation and what environment will increase your return on investment (ROI). Since we are talking about the landscape being like the environment, please feel free to draw on correlations within the economy. And as we shift gears from relationships to business, please consider the relationships and the connections that you make in your career.
The desert is a harsh, dry environment. The desert teaches us to conserve our resources, as they may be limited. From an economic standpoint, this sounds like the Great Depression, a time of limited resources. If the economy is behaving like the desert, you must make career choices that are conducive to this dry environment. If your finances move into the landscape of the desert, it may be time to look for external assistance. The key here is that you recognize that you are in a desert and use your resources. Many say that you should save for a rainy day—I say that you should save for time in the desert!
There are some industries or fields of work that can survive in the desert. Think about the fact that deserts may not get rain for one hundred days, but then one day the rain comes in and it is a downpour. This relates to people who have one or two big influxes of money a couple of times a year. These survivors may enjoy this type of environment.
Now let's look through the lenses of the landscape of the forest as we consider the economy, careers, and finances. The forest has a plethora of growth. From an economic standpoint, this feels like a bull market. Additionally, the forest has an umbrella of tall trees to protect the ground from too much sun, rain, or wind; it keeps the ground moist. This is a good environment for mom and pop shops, which may be funded by an investor umbrella, and entrepreneurs. This is the time to invest and to grow your financial situation. This is a time to start something new within your field or industry—this landscape is extremely conducive to growth.
Mountains can be the symbol of starting out on a long journey and growing through the challenges, through the highs and lows, in a slower and more grounded manner. Economically, I would consider the Industrial Revolution and how that changed the playing field. I would also look at computers and how they have changed the world. Regarding careers, mountains remind me of big business. I would look at the top one hundred or top five hundred companies. This landscape is conducive to taking a journey—starting at the bottom and working your way to the top, literally. This indicates a time of slowly growing your career and/or reputation; give it the time that it needs.
Download


Copyright Disclaimer:
This site does not store any files on its server. We only index and link to content provided by other sites. Please contact the content providers to delete copyright contents if any and email us, we'll remove relevant links or contents immediately.