Wagers of Sin by Robert Asprin & Linda Evans
Author:Robert Asprin & Linda Evans [Asprin, Robert] , Date: January 14, 2021 ,Views: 24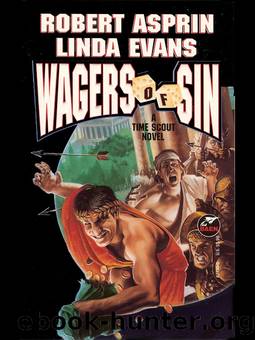 Author:Robert Asprin & Linda Evans [Asprin, Robert]
Language: eng
Format: epub
Tags: Science Fiction
ISBN: 0-671-87730-5
Publisher: Baen Books
Published: 1996-07-01T04:00:00+00:00



Chapter Eleven
Gasps went up from those who'd seen photographs. Malcolm just grinned, ignoring the sound, which set her heart beating so fast that cute young grad students might have never existed. Malcolm had a breathtaking smile that turned her insides—and occasionally her very bones—to melted marshmallow.
"So there you are!" Malcolm exclaimed, relief on his long, craggy, sun-and-wind scoured face. "I thought maybe you'd come down here to spar with Sven. We looked. He's miffed."
Margo said smugly, "I'm saving up for that. If he throws me twice, I'll fast for a whole day."
Kit grinned. "I'll make sure you honor that one, my girl."
She put her tongue out, then kissed Malcolm, just thoroughly enough to set him on fire, but not quite thoroughly enough to push him over the edge and carry her out of here. She finally broke the kiss, smiling up into his eyes with a promise of more to come later, then all but crushed Kit's ribcage. It startled him, but he didn't let go before she did. He did lower his head to kiss her hair several times, as though he couldn't believe this was happening.
When she looked up into his eyes, she saw joy and tremendous pain there. "I'll make it up," she whispered, "all of it. I'll even tell you my whole life's story. I should have a long time ago, but I was scared. After class, okay?"
Kit just closed his eyes.
"I'll—yes, please." Then he opened his eyes again, cleared his throat. "I believe you have a class to teach?"
She sighed, then commented wryly, "Yeah. Like everything else I do, it appears to be part of my training."
Kit and Malcolm nodded approvingly, Kit adding, "A fine lesson for you to learn—and all on your own, too." Margo wrinkled her nose at him, then turned back to the class of goggle-eyed scientists.
Margo took Malcolm's arm, wrapping it possessively around her waist so he all but surrounded her. Determined to do this right if her tongue shattered from all the gilding one was supposed to learn to master gracefully, she said, "This gentleman with his arm around me is Dr. Moore, Freelance Temporal Guide, sought out by members of the very oldest names and fortunes in the world, men and women who bear European titles of nobility, Americans of the greatest industrial and computer families in the nation, prestigious members of the press and the glittering stars of New Hollywood.
"They seek Dr. Moore for assistance with private tours away from the main Time Tours itineraries so they won't have to endure the endless chatter of the riff-raff who take the same tours. Dr. Moore is also a successful gemstone speculator," Malcolm squeezed warningly, "a doctor of philosophy in both anthropology and classics, and, to my greatest happiness, my fiance."
A few faint groans reached them, bringing laughter to Malcolm's eyes when she glanced up.
Kit, however, was staring at her oddly.
"And this renowned hero," she said, slipping loose of Malcolm's grip just long enough to take her grandfather's calloused hand, "is the most famous recluse on Earth.
Download


Copyright Disclaimer:
This site does not store any files on its server. We only index and link to content provided by other sites. Please contact the content providers to delete copyright contents if any and email us, we'll remove relevant links or contents immediately.