Virtual Light & some Xtras by William Gibson
Author:William Gibson [Gibson, William] , Date: May 4, 2021 ,Views: 46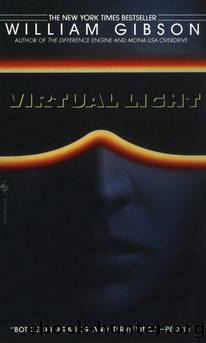 Author:William Gibson [Gibson, William]
Format: epub
Published: 2010-04-12T09:23:34.335000+00:00



Much later, trying to explain to Sublett what it had been like when Josie whipped her hologram on Orlovsky, Rydell said it looked sort of like the special effect at the end of Raiders of the Lost Ark, that part where those angels or whatever they were came swirling out of that box and got all over those Nazis.
But it had all been happening at once, for Rydell. When the lights went, they all went, all those signs on the wall, everything, and Rydell just tossed that table sideways, without even thinking about it, and Went For where she'd been standing.
And this ball of light had shot down, expanding, from a point on the wall that must've marked the upper edge of that NEC sign. It was the color of the hologram's skin, kind of honey and ivory, all marbled through with the dark of her hair and eyes, like a fast- forward of a satellite storm-system. All around that Russian, a three-foot sphere around his head and shoulders, and as it spun, her eyes and mouth, open in some silent scream, blinked by, all magnified. Each eye, for a fraction of a second, the size of the ball itself, and the white teeth big, too, each one long as a man's hand.
Orlovsky swatted at it, and that kept him, for some very little while, from getting his gun out.
But it also gave off enough light to let Rydell see he was grabbing the girl and not Boyfriend. Just sort of picking her up, forgetting everything he'd ever been taught about comealongs and restraints, and running, best he could, for the stairs.
Orlovsky yelled something, but it must've been in Russian.
His uncle, the one who'd gone off to Africa in the Army, used to say, if he liked how a woman's ass moved when she walked, that it looked like two baby bobcats in a croker sack. And that was the expression that popped into Rydell's mind as he ran up those stairs with Chevette Washington held out in front of him like a big bunch of groceries. But it didn't have anything to do with sexy.
He was just lucky she didn't get an eye or break any of his ribs.
Download


Copyright Disclaimer:
This site does not store any files on its server. We only index and link to content provided by other sites. Please contact the content providers to delete copyright contents if any and email us, we'll remove relevant links or contents immediately.