US Army's Effectiveness in Reconstruction According to the Guiding Principles of Stabilization by Diane E. Chido
Author:Diane E. Chido , Date: February 23, 2021 ,Views: 17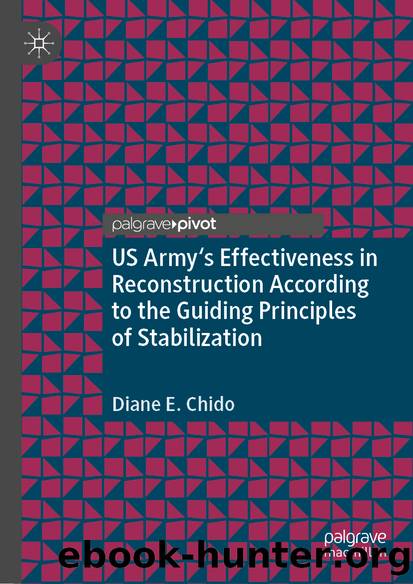 Author:Diane E. Chido
Language: eng
Format: epub
ISBN: 9783030600051
Publisher: Springer International Publishing



This focus on home and hearth fed naturally into the additional myth of the rapacious black man bent on raping and deflowering white women that would prove pervasive in the culture into the twenty-first century. This fear of polluting the blood and defiling women became a dog whistle for political violence, including lynching and other extrajudicial violence, police brutality, and other forms of discrimination to the present day whenever black men attempted to assert their civil rights, guaranteed in the 14th Amendment in 1868.
As efforts were made across the South to ensure Civic Participation and Empowerment, Democrats who opposed Reconstruction regained a majority in the House of Representatives in 1874 while Northern voters felt the Civil War and slavery were long over and fatigue for Reconstruction activities had set in. The role of the Army became ineffectual as support for Reconstruction waned ten years after the cessation of large-scale violence, while Southern opposition gained ground as the North failed to ensure the rights and freedoms granted were fully implemented and institutionalized and access to opportunity was granted across the entire population.
If there was this level of disinterest in effectively conducting stabilization operations in one's own country, it is understandable that the international community has difficulty maintaining the commitment in distant places like Somalia or South Sudan, where there is no direct national interest. There is much discussion today in stabilization circles about Political Primacy, meaning that all stabilization efforts must be focused on establishing and preserving positive and sustainable political outcomes, especially post-conflict. The politics of the post-Civil War period provide a useful lens through which to view the efficacy of early Reconstruction.
As noted above, the level of white supremacist influence and activity varied across the South, due to local conditions. In Virginia, for instance, where the Republican Party did not easily become firmly entrenched, the Klan was less active as its goals could be achieved through the political process.
In Georgia and Louisiana, however, the violence was frequent, brutal, and widespread. This directly correlated to the results of the presidential election of 1868 provided in Fig. 3.6 in which Republican Ulysses S. Grant, won the vote in every Southern state except Georgia and Louisiana. Somewhat surprisingly, in several Northern and border states the popular vote also did not go to the Republican. As Grant's opponent, Horatio Seymour was from New York, thus his wins in that state and neighboring New Jersey are less surprising.
Fig. 3.6Popular vote results for 1868 presidential election
Download


Copyright Disclaimer:
This site does not store any files on its server. We only index and link to content provided by other sites. Please contact the content providers to delete copyright contents if any and email us, we'll remove relevant links or contents immediately.