Unconventional Success: A Fundamental Approach to Personal Investment by David F. Swensen
Author:David F. Swensen [Swensen, David F.] , Date: May 21, 2018 ,Views: 864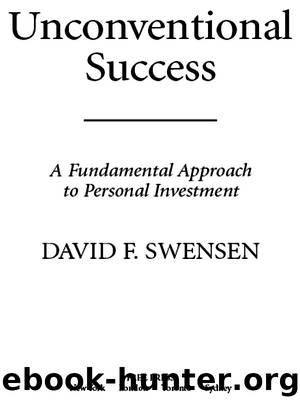 Author:David F. Swensen [Swensen, David F.]
Language: eng
Format: azw3, epub
Publisher: Free Press
Published: 2005-08-09T04:00:00+00:00



Table 6.4 Rebalancing Smoothes the Market Cycles
Source: TIAA-CREF.
Note: Unrebalanced portfolio allocations and rebalanced portfolio allocations reflect the author's calculations.
Rebalancing activity mitigates the portfolio swings caused by fluctuations in the equity markets. As equities appreciate relative to bonds, diligent rebalancers sell stocks and buy bonds to restore allocations to target levels. Conversely, if bonds appreciate relative to stocks, rebalancers sell bonds and buy stocks. Throughout the 1990s bull market, rebalancing required sale of rapidly appreciating equities and purchase of less-rapidly appreciating bonds. Viewed from the 2000 top-of-the-market perspective, rebalancing dampened returns during the decade of the 1990s, as it systematically required sale of stocks.
Viewed from the 2002 post-bubble perspective, risk control proved profitable. As the bear market in equities relentlessly reduced values in stock portfolios, rebalanced portfolios performed far better than portfolios allowed to drift with the markets. Even though rebalancing sometimes appears costly in the short run, by maintaining asset-allocation targets investors expose themselves to the desired risk level and position themselves for long-run success.
Download


Copyright Disclaimer:
This site does not store any files on its server. We only index and link to content provided by other sites. Please contact the content providers to delete copyright contents if any and email us, we'll remove relevant links or contents immediately.