Two for the Road by Catherine Rull
Author:Catherine Rull [Rull, Catherine] , Date: September 17, 2020 ,Views: 10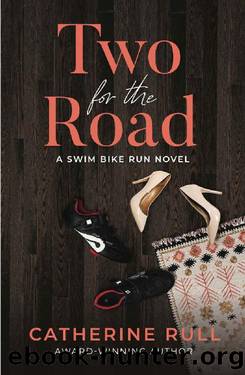 Author:Catherine Rull [Rull, Catherine]
Language: eng
Format: epub
ISBN: 9780648762850
Publisher: Wolfhaus Press
Published: 2020-05-25T16:00:00+00:00



Chapter 20
"You're not going yet, are you?" Hayden asked Cleo as she came out of the kitchen. A hit of panic tightened his chest.
Lowering her gaze, Cleo tucked a strand of hair behind her ear. She was wearing it half up-half down, tempting him all night to wrap a lock around his fingers. "All the glasses are done."
His breath hitched. Did she really think he only invited her to wait on him and his friends? Shit. He tried to scramble to his feet, and she rushed over to help steady him. Her touch on his arm warmed his skin, but she pulled her hand away as soon as he was upright.
"Thank you, but I didn't mean the washing up. You've done so much tonight already. I could've washed the last bits."
"It's no trouble. It must be hard to stand at the sink with crutches."
Great. She was back to feeling guilty again, no doubt thanks to Mattie. Hayden got the biggest urge to pull Cleo close and wrap her in his arms. After a moment's hesitation, he settled for patting her on the shoulder. He cringed inside as soon as he did it.
Smooth, Lockie. No other woman made him act like a bigger dork. But he couldn't exactly bring his A-game when he'd been making an effort to behave himself around her, seeing she was dating Randy and all. Of course, Wendy told him something interesting on her way out—that Escott wasn't officially Cleo's boyfriend yet. What did that mean exactly when she'd already introduced him to her "family" in Brisbane?
"Leg's practically all healed." He shrugged, wanting her to lighten up about the accident. He had. "Cast should come off on Monday."
"Yes. Then we won't have to see each other again, right?" she said, quoting the stupid thing he'd said when they'd started this deal.
His chest ached. "Yeah, thank God."
She flashed him a wry smile.
"Anyway, you can't go yet," he told her. "I've got something to show you. You up for a walk?"
She shouldered her handbag in response. "We have to get up early tomorrow for Randall's triathlon."
Ouch. Hayden hated it when she mentioned the wanker's name. And to say his sport in the same sentence just about knocked the wind out of him.
"You'd wanna see this," he assured her with his best Boy Scout smile. "Here. You won't need this on our walk." He slid the bag strap off her shoulder, placing it on the sofa before guiding her outside.
"Where are we going?" Cleo asked as she locked the door behind them.
"Just a short stroll." He smiled, leading her to the other end of his street before turning right.
A pleasant breeze blew against them, cooling some of the late November sweat off his skin. The wind ruffled Cleo's hair, the tendrils fluttering against her neck. It drew his eyes to the column of skin that glistened in the moonlight.
He gazed ahead.
"Not far to go now." His voice sounded tight even to himself.
"It's a beautiful night," she commented after a spell of silence.
Download


Copyright Disclaimer:
This site does not store any files on its server. We only index and link to content provided by other sites. Please contact the content providers to delete copyright contents if any and email us, we'll remove relevant links or contents immediately.