Through the Valley (The Shadow of Death Trilogy Book 1) by Stephanie Erickson
Author:Stephanie Erickson [Erickson, Stephanie] , Date: May 14, 2022 ,Views: 31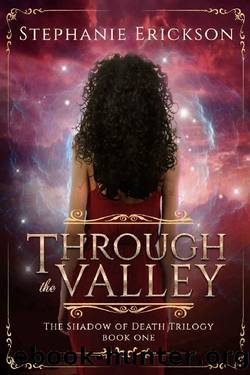 Author:Stephanie Erickson [Erickson, Stephanie]
Language: eng
Format: epub
Publisher: Pickles Press
Published: 2017-05-17T16:00:00+00:00



We stopped rather suddenly, and we were soon surrounded by sludgers. I shifted my weight, working hard to control my breathing. The urge to reach out to them was overwhelming. I kept my hands to myself though, knowing it would be unwise when we were so outnumbered.
I stared right at Bill, whose soul hadn't changed much at all over the last hour or so. He was that same muted burnt-orange color that I could tell wasn't his natural one. I imagined him to be a bright fiery orange, warm and delightful to be around. I tried not to let it bother me. I wanted to speak to him. To tell him that Asher was right—no matter how long it took, we'd stop her.
But I wasn't sure it was true.
I heard some metal doors sliding open, and Asher gave me a small nudge, urging me forward. We packed into the small space. An elevator.
"Basement, please," Bill said as I heard the doors close.
As we rode down, I tried to stay calm—and tried even harder not to touch anyone near me. There were at least six sludgers, plus the three of us, crammed into the elevator. Again, I was tempted, but the change wasn't instant. It took too much time. The others would notice if I tried restoring anyone. I couldn't risk it. But having the power to save someone and not using it was driving me crazy.
I shifted my weight, agitated, and Asher leaned into my ear. "Settle down," he said, but his voice was anything but compassionate. He was trying to help without breaking the façade that I was his prisoner.
I took a deep breath in, taking in the scents of the men around me. Soap, a sharp tang coming from one of them that wrinkled my nose, and Asher's cedar citrus mixed with some sweat. My calming exhale was interrupted when one of the sludgers asked, "Is that the famous seer?"
"Yes. Now mind your business," Bill said, taking a step back, bringing him closer to me.
I heard someone shift their weight.
"Where are you taking her?" the same voice pressed.
Bill stayed firm, and his voice took on an intimidating tone. "That doesn't sound much like minding your business."
"I didn't hear that she was supposed to be moved at all," he said simply. As if he was entitled to information on me.
"It was need-to-know," Bill said, just as simply.
That was what finally shut the guy up. The elevator stopped and several sludgers got off, but I couldn't tell if the inquisitive one was among them, and I didn't dare ask.
The elevator stopped a few more times, and, finally, we were alone. I could see Bill's dull orange glow, and that was it.
"Asher?"
"I'm here," he said quietly.
Part of me wanted him to take my shaking hand. To let me know it would be okay. That we would make it. But he didn't. My hands remained bound together, hanging in front of my body.
"How much further down does this elevator go?" Asher asked.
"A long way," Bill said.
Download


Copyright Disclaimer:
This site does not store any files on its server. We only index and link to content provided by other sites. Please contact the content providers to delete copyright contents if any and email us, we'll remove relevant links or contents immediately.