TheRedemptionofRafeDiaz by Maggie Price
Author:Maggie Price [Price, Maggie] , Date: May 4, 2021 ,Views: 9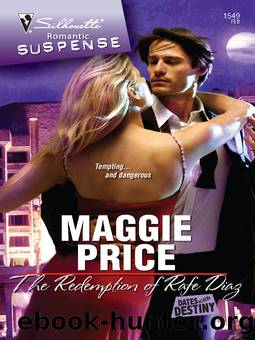 Author:Maggie Price [Price, Maggie]
Language: eng
Format: epub
Published: 0101-01-01T00:00:00+00:00



"It's too bad Liz got caught up in paperwork and couldn't meet us here," Claire Castle said after she and Allie finished checking all three floors of the warehouse. "Maybe she would have spotted something out of place."
Hands planted on her hips, Allie swept her gaze around the large, airy room where a dozen sewing machines sat at individual workstations. Cutting tables were positioned at the rear of the room. Shelves holding countless spools of thread in every color of the rainbow lined one entire wall.
Bolts of silk, satin, lace and ribbon were aligned according to color. Clear plastic containers held an array of the beads, spangles and pearls that would be handstitched onto purses and slippers.
As always, the floor was spotless, the shelves orderly, the workstations pristine.
"I doubt Liz would have had any more luck than we did," Allie said. "There just isn't anything out of place."
"You ought to know." Claire glanced around. "Do you still want to take the trousseau items to the shop?"
Allie shoved a hand through her hair and eased out a breath. She'd taken time to shower after she and Claire got the shop back into a halfway orderly state, but the hot water had done nothing to ease the throb in her right knee from her crash landing when Slater's car exploded. Or lessen the fatigue that made her eyes feel like they'd been scrubbed with sand. Then there was the whammy Rafe's kiss had delivered to her system. That she'd forgotten about the trousseau items was a clear sign her brain wasn't operating on all cylinders.
"Yes, thanks for the reminder," Allie said. "All three brides have appointments for fittings next week at the shop."
"It's not like you don't have plenty to deal with," Claire said, following Allie to a large closet. "You've been through enough to put anyone's emotions into overdrive."
Allie unhooked a hot pink garment bag off the closet's rod and handed it to Claire. "I did have an eventful night."
"Not to mention an interesting close encounter a couple of hours ago," Claire murmured as Allie carried two additional garment bags out of the closet.
Because Claire's husband had shown up to help straighten up the shop right after Rafe left, and the friends had driven separately to the warehouse, Allie had waited until they arrived to tell Claire about the kiss she and Rafe had shared. Although hours had passed, her insides still felt like scorched earth.
"Interesting isn't the word I'd use," Allie said as they laid the garment bags on one of the worktables. "Rafe and I agreed that kissing each other was a bad idea. In my opinion, that's true for several reasons."
"I take it one is what happened between you in the past."
Allie nodded. "I'm sure when he looks at me, he pictures me in that courtroom, testifying against him."
"You told the truth."
"Even so, he was innocent and went to prison partly because of my testimony. That's what you call heavy baggage."
"Okay, that's one reason," Claire said. "You said there were several.
Download


Copyright Disclaimer:
This site does not store any files on its server. We only index and link to content provided by other sites. Please contact the content providers to delete copyright contents if any and email us, we'll remove relevant links or contents immediately.