The Women's Health Fitness Fix by Jen Ator
Author:Jen Ator , Date: December 4, 2017 ,Views: 1340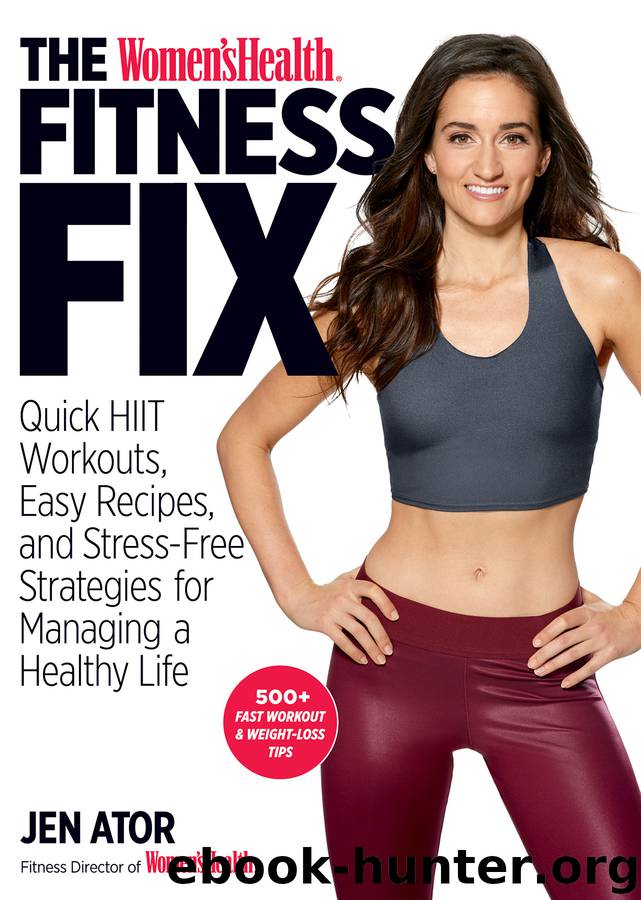 Author:Jen Ator
Language: eng
Format: epub, azw3
Publisher: Rodale
Published: 2017-12-04T05:00:00+00:00



9 Your Weight-Loss Workout Plan
A forgiving and flexible fitness mentality—that is, doing any amount of exercise wherever and however possible—can be a productive and effective way to drop pounds. That's why this book is packed with routines that give you plenty of options, based on your schedule, your mood, and what type of equipment you have (or don't have).
But while freestyling your way through weekly workouts may offer variety, it can also make it harder to develop a consistent routine—especially for beginners. Without a set plan, a daily commitment to hit the gym can quickly slide. For many women, the problem is finding a program they can get into.
"The key to creating a maintainable fitness training plan is to address both our strength and cardio needs in short, simple, and effective workouts," says Robert dos Remedios, CSCS, strength and conditioning director at the College of the Canyons in Santa Clarita, California. He knows a thing or two about that winning combination. He, quite literally, wrote the book on it—it's called Cardio Strength Training. The two workouts you'll find in this chapter blend functional, balanced strength training in a circuit with short rest breaks to boost the cardiovascular benefits without compromising all-important lean muscle mass (which helps you burn even more calories after your workout). Oh yeah, and while many programs take about 45 minutes (sometimes more), you'll be done and on your way in 24 minutes.
Here's how to do it: Complete three routines each week on nonconsecutive days, alternating between Workout A and Workout B (so A-B-A during the first week, B-A-B during the second week, etc.). For each workout, start with the first exercise and complete as many reps as you can in 30 seconds, then rest for 30 seconds; continue to the next exercise and repeat this pattern until you've completed each move. That's 1 set. If you're a beginner (or it has been longer than 2 months since you've last exercised), repeat just one more time for a total of 2 sets. If you're more experienced, repeat three more times for a total of 4 sets. (It should take you about 20 minutes.)
After your sets, you'll have the option of doing a high-intensity, 4-minute "afterburn finisher." Think of it like extra credit, and aim to complete this exercise after most workouts—even if you're already tired. "It gives you a chance to stamp the exclamation point on a great workout—one more chance to throw an extra log on that metabolic furnace you're trying to ignite," says dos Remedios. It also helps you mentally push past your limits and test what your body is capable of achieving. They're super simple to complete: Do as many as you can in 20 seconds, then rest for 10 seconds. That's 1 set. Do 8 sets.
Download


Copyright Disclaimer:
This site does not store any files on its server. We only index and link to content provided by other sites. Please contact the content providers to delete copyright contents if any and email us, we'll remove relevant links or contents immediately.