The Rottweiler Howls at Midnight (Cascade Canine Club Mysteries Book 1) by Rachelle Orcelletto
Author:Rachelle Orcelletto [Orcelletto, Rachelle] , Date: July 12, 2022 ,Views: 4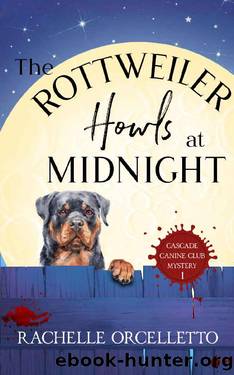 Author:Rachelle Orcelletto [Orcelletto, Rachelle]
Language: eng
Format: epub
Published: 2022-01-20T16:00:00+00:00



Chapter 21
"He asked you out?" Maeve set her coffee cup down on the table. "Tell me everything."
The event was officially over. Maeve signed a mountain of books. From the way she moved and how she held her coffee cup, I could tell she was exhausted and sore. Still, her eyes sparkled as she leaned forward in anticipation. We never discussed boys and dating as kids. Age difference aside, dating was forbidden. It was a miracle Frank was able to break through our father's defenses to win the opportunity to spend (supervised) time with Maeve.
"Well, it's nothing special," I said. "We're just going hiking with the dogs on Tuesday."
"Where?"
"He didn't actually say. Somewhere west of Redmond."
Maeve frowned.
"That doesn't exactly narrow things down. There's all kinds of beautiful trails out that way."
"Out which way?" Marnie asked, emerging from the storeroom with a cup of coffee of her own and joining us at our table. She smiled down at the dogs. Maeve had removed Ben's vest, giving him freedom to do as he liked for a while. He and Bobbie settled down next to us and were engaged in a pretty serious game of bitey face.
"Out past Redmond," Maeve said. "Calvin and Nell are going hiking."
"Oh, that sounds like fun!" Marnie said. "And there's definitely plenty of trails out that way. I'm pretty sure Calvin would have scoped them all out. That dog of his isn't the couch potato type."
"Neither are Nell's," Maeve replied. "Seems like it'll be a good match."
A customer stopped by our table and, after admiring the dogs' antics for a while, asked for help finding a particular book. Marnie directed her to the romance section and told her she'd be with her shortly.
"Thanks again for hosting such a great event," Maeve said.
Marnie drained the rest of her coffee and got to her feet. "Oh, it's always my pleasure, Maeve, you know that." Marnie stacked our coffee mugs and cradled them in one hand. "It was lovely to meet you, Nell. I hope we'll be seeing more of you in the future."
My stomach did the tiniest of flip flops at the indirect implication of me being there long enough to become a regular anywhere, even at a place as inviting as Dog Eared Books. I plastered on a smile.
"You most definitely will be seeing more of me," I said. "This place is fantastic. Coffee shop and bookstore all rolled into one. I might just follow Calvin's example and come here some days to try and get some work done."
"I have a few regulars who like to do that," Marnie said. "I think it's the books. Helps get people in that working mindset."
"You'd think it would be a little distracting," Maeve mused. "It would be for me. I can't have any books in my office at all. Too tempting."
Bobbie and Ben's silent wrestling match migrated next to my chair. Bobbie in particular seemed to think my foot made a good backrest.
"You know, I would have thought so too," Marnie answered. "I
Download


Copyright Disclaimer:
This site does not store any files on its server. We only index and link to content provided by other sites. Please contact the content providers to delete copyright contents if any and email us, we'll remove relevant links or contents immediately.