The Nefarious Madam by Serenity Snow
Author:Serenity Snow [Snow, Serenity] , Date: January 14, 2021 ,Views: 26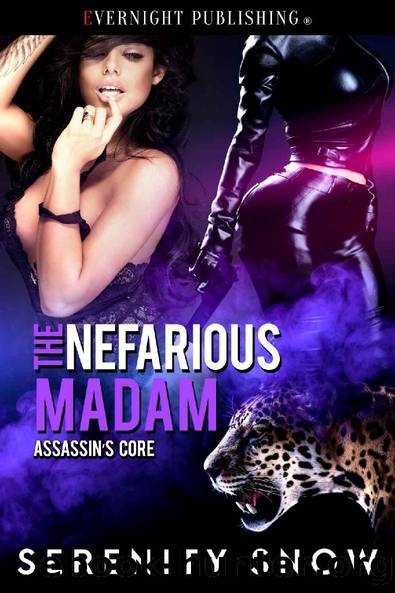 Author:Serenity Snow [Snow, Serenity]
Language: eng
Format: epub
Publisher: Evernight Publishing
Published: 2020-06-22T05:00:00+00:00



Chapter Twenty-Three
Tatiana tiredly stripped off her dress as Alexi removed her own clothes. She threw her lover a glance to find a serene look on her face.
"I'm glad you're not too upset about tonight," Alexi said, a hint of tension in her tone. "I couldn't have foreseen him being there."
"Who was he?" Tatiana asked as she removed her earrings. She watched Alexi's expression, but it never changed.
"He used to work with Charles," Alexi replied. "He was his accountant and errand boy."
"What does Russkaya ruletka mean?" Tatiana asked. "Why did you say that to him?"
Alexi met her gaze. "I said it because he needed to hear it."
Tatiana put away her earrings. "Alexi, I'm not your sub, and I want to know what those words mean and if you had that man killed."
"I didn't have him killed, Tia," Alexi responded. "That would have been too easy."
"The words?" she insisted.
"Russian Roulette," Alexi told her.
Tatiana frowned. There was something in that, a secret she'd meant him to know. "Why did you tell him that? It scared the pants off him," Tatiana exclaimed. "What is it code for?"
Alexi's expression became one of amusement. "You watch too many movies, Tia," Alexi said with a laugh. "It was merely words to let him know he was playing a dangerous game making threats he couldn't back up."
The veiled threats against Alexi's life had bothered her, too.
"The same words are on your medallion," Tatiana said. "Why?"
Alexi sighed. "Tia. Let that go, please."
Tatiana glared at her. "Why?"
"Because I asked you to," Alexi replied, and the cat flashed in her eyes for a moment and then was gone as Alexi headed to the bathroom.
"I'm not afraid of you," Tatiana called.
"Yes, you are," Alexi replied. "But you won't get an answer tonight, so move on."
Tatiana contemplated pressing, especially after Austen's reference to Alexi and drugs, but the cat was in control and its will was iron.
"You didn't have him killed, so does that mean you killed him somehow?" she asked, recalling what Alexi had told her when Tatiana had questioned Alexi about killing Tatiana's brother.
"Tia."
"You did," she said as Alexi turned on the water in the bathroom. Tatiana went to the door to find Alexi washing her hands. "You used a date with me as cover to kill him."
Alexi finished up and dried her hands on a plush burgundy towel and hung it back on the silver bar beneath Tatiana's gaze. Then, she turned.
"Why would you say something like that?" Alexi asked and then caressed her cheek. "I'm hungry, sweetie. I think I'll get us some dinner."
"Alexi," she growled as Alexi brushed against her, moving past her. Alexi's hand caressed her ass as she did so.
"How do you think I could have killed him in a crowd?" Alexi asked.
"You tell me," Tatiana ordered propping a hand on her hip. She watched Alexi move across the room.
"Okay, there are ways, but it takes finesse," Alexi replied. "I'm a gun woman, Tia. Knife even up close and personal. I like to make a kill sporting by giving the prey a chance.
Download


Copyright Disclaimer:
This site does not store any files on its server. We only index and link to content provided by other sites. Please contact the content providers to delete copyright contents if any and email us, we'll remove relevant links or contents immediately.