The King is Dead: a cozy 1930s English murder mystery set in a country house by Morrison Hugh
Author:Morrison, Hugh [Morrison, Hugh] , Date: March 18, 2023 ,Views: 56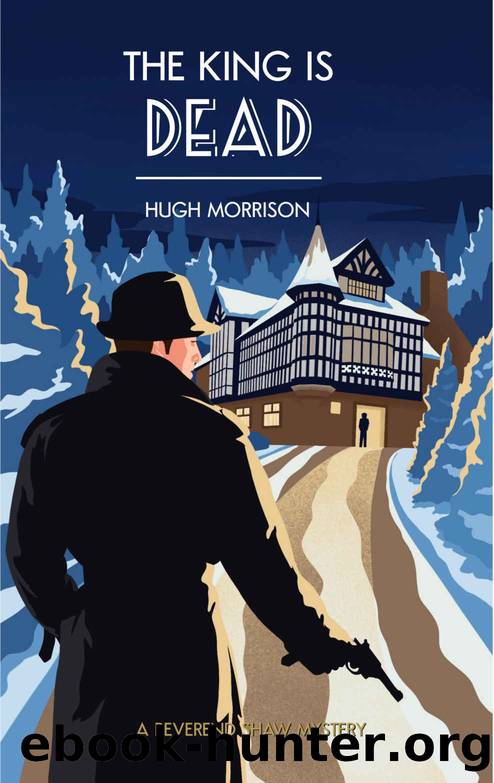 Author:Morrison, Hugh [Morrison, Hugh]
Language: eng
Format: epub
Publisher: Montpelier Publishing
Published: 2021-07-31T00:00:00+00:00



*
'Why the devil did the king have to live in this godforsaken place?' asked Gregory. He was a Londoner through and through, and preferred the busy streets of the capital and his warm flat in Belsize Park to the icy wastes of East Anglia.
The police doctor, newly arrived from Midchester by motor car, replaced the table-cloth over the king's waxen features. 'If he'd had the sense to live in Belgravia we could have protected him properly,' continued Gregory.
Gregory and Carter stood in the drawing room of The Larches, watching pensively and smoking cigarettes, as the police doctor began replacing instruments into his black Gladstone bag.
'He didn't want protection, did he sir?' said Carter. 'We offered it of course - usual Special Branch procedure for someone of his standing - but he emphatically turned it down in writing. Some nonsense about wanting to be treated like any normal Englishman.'
'I remember seeing that letter,' said Gregory. 'The damned fool. And of course I know why he came out here too - besotted with that sharpshooter woman from the music-hall. What's her name again?'
'Elsie Garnham.'
'That's the one. But why not just set her up in a nice little discreet flat in Mayfair and visit her every Friday like any normal man would do?'
Carter shrugged. 'Wasn't a normal man though, was he, sir? He wanted to marry her. Seemed to be properly in love with her. Can't think why, she's the type to give you a tongue-lashing for not folding your pyjamas properly.'
'Hmm,' mused Gregory, stubbing out the end of his De Reszke cigarette in an ashtray on an occasional table. 'Maybe he liked being ordered around after a life of being fawned over. I suppose he also had his reputation to consider. What with being a king and so on. What do they call it when a royal marries a commoner? A morganatic marriage?'
'Something like that,' said Carter. 'There was no funny business going on between them as far as I could tell. She spent every night in that cottage he got for her nearby, and as far as I know he didn't pay her any visits out of hours.'
'The virgin queen, eh?' said Gregory, with a wry smile.
'That could have been the impression she wanted to give him,' said Carter. 'But she's been round the block a few times, has our queen-in-waiting.' He consulted a buff manilla file, one of several on the table beside him. 'Never married, but quite a few boy-friends, from what we can tell. Had up for assault and battery in 1928, broke a chorus girl's nose in a disturbance at a theatre in Ipswich.'
'Sounds a regular hell-cat,' said Gregory. He turned round as he heard the doctor clearing his throat.
'All done, doctor?' asked Gregory.
'We'll know more after the post-mortem,' said the doctor, snapping his bag shut. He smoothed his thinning hair back over his gleaming scalp and adjusted the thick spectacles on his ruddy nose.
'He's been dead about two hours I'd say,' continued the medical man. 'Cause
Download


Copyright Disclaimer:
This site does not store any files on its server. We only index and link to content provided by other sites. Please contact the content providers to delete copyright contents if any and email us, we'll remove relevant links or contents immediately.