The Kidnap Years: by David Stout
Author:David Stout [Stout, David] , Date: August 4, 2021 ,Views: 74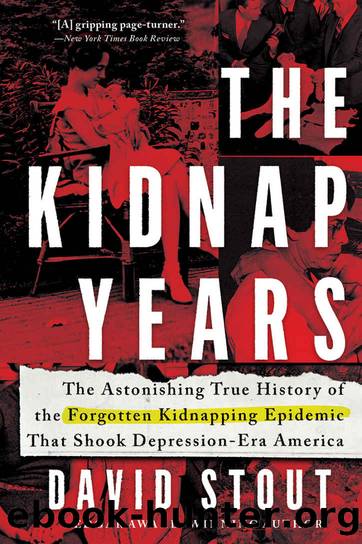 Author:David Stout [Stout, David]
Language: eng
Format: epub
ISBN: 9781492694809
Google: wDzDDwAAQBAJ
Goodreads: 50204801
Publisher: Sourcebooks
Published: 2020-04-07T04:00:00+00:00



On Friday, July 28, things began to move. The kidnappers had sent word that they would accept $40,000, a relative pittance compared to the original demand. Louis Snyder, a lawyer for Manny Strewl, picked up the money at the O'Connells' home in the Catskills and drove to New York City, where he had been told that Butch would be found safe.
On Sunday, July 30, after he had been held captive for twenty-three days, Butch was set free in the Bronx. Snyder and Strewl went to New York where Strewl made several telephone calls and took various taxi rides, as instructed by the kidnappers. He was blindfolded much of the time. After he handed over the money, he was dropped off at his own car, which by prearrangement had been parked at Broadway and 220th Street in the Bronx.
And there, in Strewl's car, sat Butch, blindfolded and gagged. Strewl freed the young man from his inconveniences and drove to pick up Snyder, who had been waiting a short distance away. Then it was on to Albany for a joyous family reunion.
Strewl quickly came under suspicion. He had seemed to wiggle his way all too easily onto the list of intermediaries who might be acceptable to the kidnappers, and then he had been chosen. Also, known samples of his handwriting resembled that in the notes sent to the family by the kidnappers.
On August 1, District Attorney John T. Delaney made a statement that seems astounding, at least by today's standards of conduct by prosecutors. Reporters, who knew that Strewl was being interrogated, asked Delaney if Strewl would be charged. "Oh, eventually, I suppose so," the prosecutor replied. "You can't act as a go-between in cases like this without being charged with something. But just now he is helping and has been helping… No one has been offered any protection. If they're in, they're in."90
With his seemingly casual remarks, the prosecutor had made it clear that the border between good citizens and criminals in Albany was easily crossed, if there was in fact a border.
No one who had followed the case and knew the nature of Albany was surprised when Strewl was indicted on charges of kidnapping. Others who were indicted included the thug brothers John and Francis Oley, an ex-con named Percy "Angel Face" Geary, and several others who were nowhere to be found at first. All were well known to local lawmen.
Strewl was convicted in a New York State court in March 1934 and sentenced to fifty years in prison. The Oleys and Geary remained at large, but they were not idle.
On the morning of August 21, 1934, the Oley brothers and Geary were part of a gang that held up an armored car at a Brooklyn ice house, then commandeered a boat to effect their getaway with more than $400,000. Unfortunately, a shotgun was accidentally discharged on the boat, mangling the leg of one robber so badly that he soon died despite the efforts of a shady surgeon who had been summoned to try to save him.
Download


Copyright Disclaimer:
This site does not store any files on its server. We only index and link to content provided by other sites. Please contact the content providers to delete copyright contents if any and email us, we'll remove relevant links or contents immediately.