The Island Girls: A heartbreaking historical novel by Noelle Harrison
Author:Noelle Harrison [Harrison, Noelle] , Date: August 5, 2020 ,Views: 145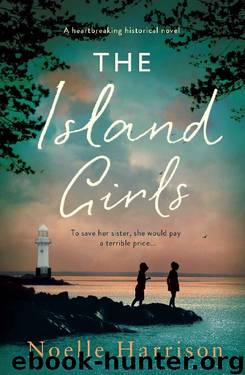 Author:Noelle Harrison [Harrison, Noelle]
Language: eng
Format: epub
ISBN: 9781838881764
Publisher: Bookouture
Published: 2020-04-22T23:00:00+00:00



Back in Susannah's house, Emer prepared her patient's tea, cutting a pear in half, peeling and slicing it. Susannah might only manage half the pear, but it was something at least. She felt a knot of anxiety in her chest. Henry's invitation to The Sand Bar could be viewed as a proper date. But she'd nothing fancy to wear. Only jeans and jumpers with her. What was she doing going on a date anyway? Henry had been so kind when she'd been upset today over Orla, but then she really didn't like all the gossip he'd told her about Susannah and her family. It also felt weird that he had once dated Lynsey, who was almost the same age as Emer's mother would have been if she were alive.
And then there was Lars. Where was he now? She pictured him, his blue eyes flipping her heart every time he looked at her. She hadn't heard from him since their last phone conversation where she'd hung up on him. Not one text. She'd asked him to leave her alone, but it hurt that he'd given up so easily. What she needed to do was keep away from all men. Stay in and retrieve the rest of the letters from the quilt. Her head was buzzing with all of what Henry had told her. Maybe she'd find out the truth if she read all the letters.
'Where've you been?' Susannah asked her, as Emer propped her up in bed with a couple of pillows and placed the tray with a cup of tea and the pear on her lap.
'I went walking.'
'Well now, it must have been a long way.'
'I called in and chatted with Peggy Steel, in the library,' Emer lied, immediately feeling uncomfortable for doing so.
'Well, I'm glad you're getting out and about,' Susannah said. Her humour was so much better since she'd allowed Emer to give her a small amount of pain relief in the afternoon to allow her to rest.
'There's a band playing at The Sand Bar tonight. I was thinking of going,' Emer found herself telling Susannah. 'But I shan't if you need me.'
Susannah scrutinised her. 'Of course you should go!'
'I don't even have anything good to wear,' Emer said now, wishing she'd said nothing. Really, she would rather stay in and read those letters. 'Maybe it's not such a good idea. I don't think I should leave you on your own.'
'You certainly will!' Susannah declared. 'I was always such a loner and it did me no good. You need to meet some people your own age.'
'I guess,' Emer said, feeling nervous at the thought of seeing Henry again. But then, she wanted to ask him more about his life on the island.
'Open up the wardrobe over there.' Susannah's order broke through her thoughts. 'Look right in the back of it,' she said.
The wardrobe was jammed with old shirts and coats. Emer pushed through them.
'Can you see any dresses?'
Emer saw a glimmer of white, took hold of the hanger and pulled out a dress.
Download


Copyright Disclaimer:
This site does not store any files on its server. We only index and link to content provided by other sites. Please contact the content providers to delete copyright contents if any and email us, we'll remove relevant links or contents immediately.